Description
Masterclass
Closing the loop between Experience and Brand.
with Michel Hogan
Why Close the Loop?
Even if you think you know all about brand and experience, The Masterclass will turn your ideas inside out with a brand formula you can use to power what you do and how you do it. It's a practical hands-on learning event dedicated to showing you how to close the loop of people's experience by making promises you can keep. So you achieve a brand result people want to be part of.
Who is it for?

Relevant for any role in the organisation whether you're back office, on the frontline or somewhere in between. A must if your work impacts people's experience – customers, employees and other stakeholders.
How Do I Benefit?
This masterclass will change how you think and equip you to keep pace with the shifting economy where people expect more from the organisations they work for and buy from.
People's experience and the brand result spans the internal organisation and the session will help you see how it connects to the external environment. Over a lively, interactive 4 hour session, we will use scenarios and challenges from your organisation to explore how even small things can make a big difference.
Using insights from across her 25+ years experience, Michel will lead you through news ways to think about why brand is a result of the experience people have and loops inside and outside your organisation and the promises you make and keep.
With punchy practical advice and know how, you will walk away with tools and thinking that anyone in your organisation can use so whether you're offering up products, services, or ideas, nothing gets in the way of your success.

Unleash the Brand Result as your superpower so you can:
Put your purpose and values to work for you
Embed a deliberate practice of experience
Understand what you're trading before you act
Be confident about the promises you make
Drive creativity and innovation across the organisation.
Whether you're laying the foundations for shiny, new ventures, responding to changes in the marketplace, or are in the process of re-inventing yourself to take advantage of new opportunities, The 'Closing the Loop' Masterclass will deliver the tools and insights you need to thrive, & drive business results.
Don't miss this rare opportunity to learn from LBR Partner, Australian Independent Brand Counsel Michel Hogan.
Reserve your spot today.


What's Included:
Refreshments
'Closing the Loop' workbook
A FREE copy of Michel Hogan's e-book "The Unherohic Work"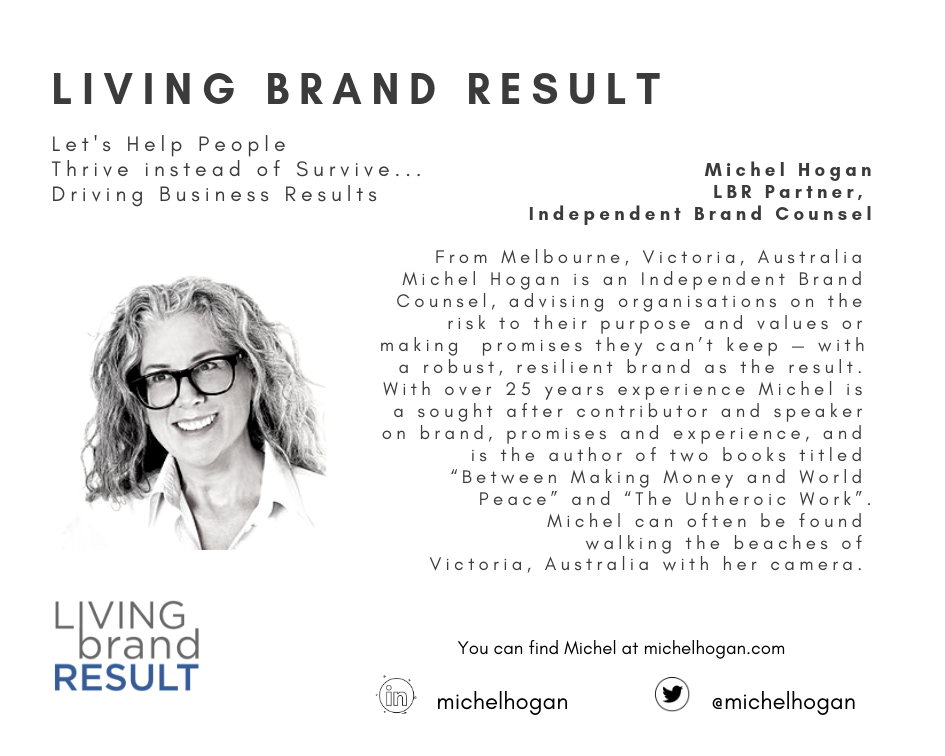 FAQs
How can I contact the organizer with any questions?
We would be pleased to answer any of your questions at hello@brandresult.com