Clôture du projet pilote Ambassadeurs ÉcoloVerts Francophones
Mise en vedette des enfants et jeunes francos dans les actions concrètes pour la protection de l'environnement.
About this event
Nous vous invitons à participer à cet évévement de clôture de la phase pilote du projet afin de découvrir les premiers jeunes et enfants Ambassadeurs ÉcoloVerts Francophones de la région d'Ottawa.
Aperçu du programme :
* Présentation du projet Ambassadeurs ÉcoloVerts
* Récapitulatif du projet : vidéo - photo des ateliers et réalisations des participants
* Témoignages des jeunes et enfants qui ont participé au projet
* Consecrations des premiers ambassadeurs Écolos
* Remise de certificat
Aperçu du projet Ambassadeurs Écoloverts
* Le projet pilote Ambassadeurs ÉcoloVerts avait pour but de tester auprès de 30 jeunes d'Ottawa, un modèle de transformation des déchets plastiques en objets utiles grâce à l'imprimante 3 D. Il a été financé par Fondation Trillium de l'Ontario sous le parrainage de CICAN.
Ce projet, une initiative du Sous-regroupement des professsionnels de Sciences et Technologies du RPNFE, a pour objectif de transformer quelques jeunes francophones de la région d'Ottawa-Gatineau en des ambassadeurs de l'écologie tout en leur inculquant des notions pour devenir des agents de développement durable et des futurs entrepreneurs.
Vous êtes invité à une réunion Zoom.
Quand : 15 mai 2021 03:00 PM Montréal
Veuillez vous inscrire à la date et l'heure qui vous conviennent le mieux :
https://us02web.zoom.us/meeting/register/tZcqdOivqDwsGtJh9Hteuqlny-c5h3673dXG
Après votre inscription, vous recevrez un e-mail de confirmation contenant les instructions pour rejoindre la réunion.
Personne contact:
Hervé Some
Coordonnateur du projet
Téléphone:
613 983-0555
Courriel:
odciposdip@gmail.com
Lien internet:
www.rpnfe-afbtp.com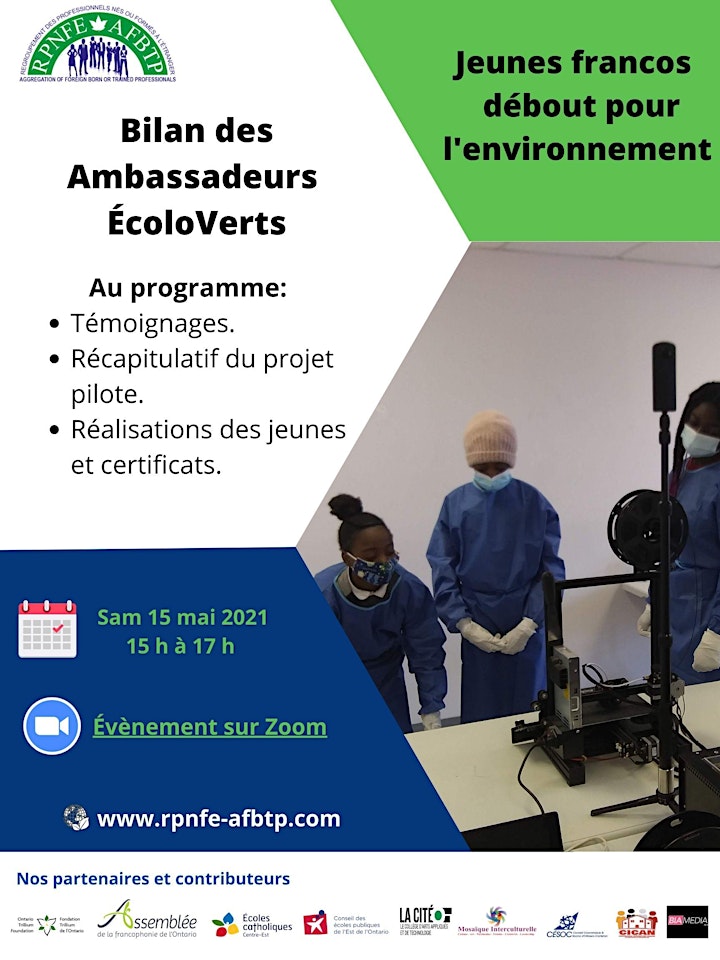 Organizer of Clôture du projet pilote Ambassadeurs ÉcoloVerts Francophones
AFBTP IS A NON PROFIT ORGANIZATION WITH THE MISSION TO BE THE LANDMARK FOR THE PROFESSIONAL INTEGRATION OF THE FBTP IN CANADA 
RPNFE EST UNE ORGANISATION SANS BUT LUCRATIF AVEC POUR MISSION D'ÊTRE LE POINT DE REPÈRE POUR L'INTÉGRATION PROFESSIONNELS DES PNFE IN CANADA. 
VISION : BRING THE FOREIGN BORN OR TRAINED PROFESSIONALS IN FULL CONFIDENCE TO BUILD THEIR FUTURE THEMSELVES. 
VISION: AMENER LES PROFESSIONNELS NÉS OU FORMÉS À L'ÉTRANGER (PNFE) À CONSTRUIRE EN PLEINE CONFIANCE LEUR FUTUR EUX-MÊMES.