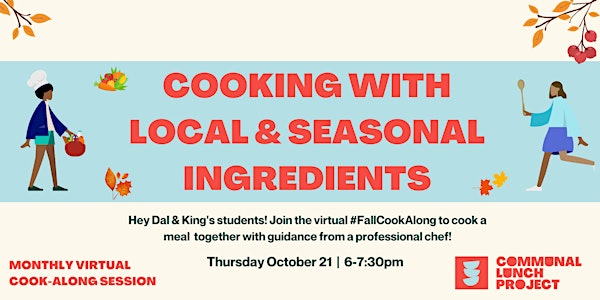 CLP Fall Cook-Along: Cooking With Local & Seasonal Ingredients (Dal&King's)
A communal cook-along series that builds students' food skills and food security with delicious local and seasonal harvests.
About this event
Learning happens when students are nourished–we're here to help! Empower yourself to develop food security with easy recipes, kitchen skills and connection to each other. All levels of cooking experience are welcome.
This is a monthly cook along series dedicated to college and university students, hosted in partnership with The Loaded Ladle. Dalhousie University and University of King's College students who register for the event can pick up their food boxes from the Halifax Forum the Wednesday before the cook-along. More details about pickup will be provided to those who register.
Each month we focus on a different theme. October's theme is Cooking with Local and Seasonal Ingredients and will run on Thursday October 21, 2021 from 6-7:30pm virtually over Zoom for 1.5 hours. Chef Joshna Maharaj will lead the cook-along from her home kitchen and will teach you how to prepare a delicious meal with local and seasonal ingredients. Please note that you must register separately for each month's cook-along.
Each cook-along session will use fully subsidized food boxes full of delicious local and seasonal ingredients (worth $25 in value) from the Wolfville Farmers' Market, delivered the day before the event to campus! Tickets and food boxes are free to Dalhousie University and University of King's College students.
Registration closes Thursday October 14, 2021 at midnight ADT. Please note that due to the logistics required to order food boxes from local suppliers, registration is final. Please register only if you are sure that you can attend this event.
*Picking up your food box*
Ingredients must be picked up on Wednesday, October 20 at 1 pm from the Wolfville Farmer's Market drop-off location at the Halifax Forum parking lot off of Young Street. To claim your produce, line up in front of their stand and let them know you're claiming a "Loaded Ladle Box" and show them the Eventbrite registration email for the Cook-Along.
If you are unable to make it to the Forum for 1pm please email us at communallunch@gmail.com to figure out an alternative.
Check out the Wolfville Farmer's Market pickup information page for more details: https://www.wfm2go.ca/hubs
Who is this program for?
Students at Dalhousie University or University of King's College who are able to pick up their food box in-person at the Loaded Ladle Kitchen in the Dalhousie Student Union Building (Main Level) on Wednesday October 21.
Who is offering this program?
The Communal Lunch Project. We work to highlight the social function of food to address two issues disproportionately represented in the post-secondary student population: food insecurity and social isolation. Grounded in performance theory and food security theory, the project proposes another way of doing lunch on campus. Check out our website & Instagram for more information.
The Loaded Ladle - a student-run, non-hierarchical food security collective which serves Dal students as well as the larger community. We provide locally-sourced, free hot meals 4 times a week out of our kitchen at Dal, as well as providing solidarity to other non-profit groups through volunteering, food preparation and/or kitchen space. We also offer free programming to the community such as food-skill workshops, teach-ins and discussions on food justice, and our To The Root conference. Recently we have been integrating more interactive online programming during covid such as our Ladle TV cooking show, which combined student chefs sharing favourite recipes with a student audience supplied with ingredients; and partnering with our local farmers market to provide food boxes to students. Feel free to reach out to learn more via email at info@loadedladle.com, or check out their website & Instagram for more information.
Do students need any special equipment?
Some. We'll share a small list of basic cooking tools that students will need.