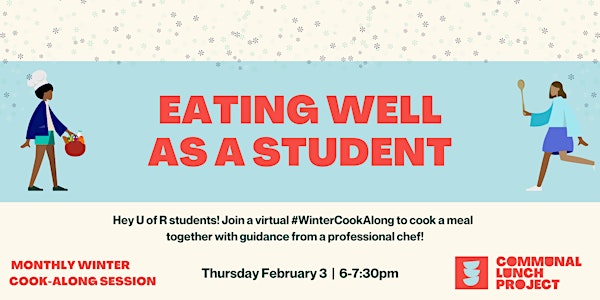 CLP Winter Cook-Along: Eating Well as a Student (University of Regina)
A communal cook-along series that builds students' food skills and food security with delicious local and seasonal harvests.
About this event
SIGN UP. PICK UP. SHOW UP.
Learning happens when students are nourished, and we're here to help! Grow your skills as a cook, enjoy delicious local, seasonal food, and feel the joy of making yourself something good to eat at our Fall Cook Along! All levels of cooking experience are welcome!
Participating students will receive a FREE ($25 value) box of local, seasonal food ingredients. Chef Joshna Maharaj will lead a cook-along, working step by step through 3 recipes in real time, using ingredients from those food boxes.
February's cook-along theme is: Eating Well as a Student.
SIGN UP
Our next session on the University of Regina campus is Thursday February 3, 2022, from 6-7:30pm CST. This event is an online event and will be hosted via Zoom. The local food boxes from REACH Regina have been very kindly sponsored by the University of Regina Students' Union. Tickets to join the cook-along and food boxes are free to University of Regina students.
Registration closes Wednesday January 26, 2022, at midnight CST. Please note that due to the logistics required to order food boxes from local suppliers, registration is final. Please register only if you are sure that you can pick up your food box and attend this event.
PICK UP
Students can pick up their food box at the URSU Member Services Desk (on the second floor of the Riddell Centre) between 2 - 7pm on Wednesday February 2 or 8:30am - 4:30pm on Thursday February 3.
SHOW UP
With their food boxes, students will login to a Zoom call at the time of the event where Chef Joshna Maharaj will lead them through a real time cooking session to make 3 recipes using the ingredients in the box.
Who is offering this program?
The Communal Lunch Project. We work to highlight the social function of food to address two issues disproportionately represented in the post-secondary student population: food insecurity and social isolation. Grounded in performance theory and food security theory, the project proposes another way of doing lunch on campus. Check out our website & Instagram for more information.
This event is sponsored by The University of Regina Students' Union (URSU). URSU's mission is to provide students opportunities to lead and be heard. Our services and programs contribute to a safe, healthy and fulfilling university experience. To alleviate stressors associated with food insecurity on campus, URSU offers various food-related services to our students: URSU Cares Pantry- a free grocery and toiletry program offered to students biweekly; URSU Community Fridge- a community fridge on campus based on the principles of mutual aid; Community Roots Garden- a conventional community garden that grows fresh produce to give back to students; Hydroponic Garden - our indoor hydroponic garden grows fresh herbs and leafy greens to give back to students all year long. Through these services, we strive to create a more resilient academic community. Check out their website & Instagram for more information.
Do students need any special equipment or ingredients?
Some. We'll share a small list of basic cooking tools and readily available ingredients that students will need in our kitchen notes, which will be emailed to you earlier in the week of the cook-along.