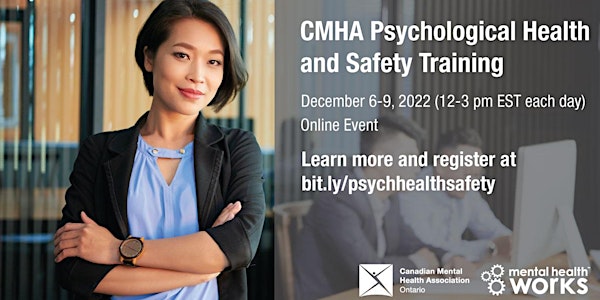 CMHA Psychological Health and Safety Training
Become a Psychological Health and Safety Professional to impact and influence mental health change within your organization!
Refund Policy
Contact the organizer to request a refund.
Eventbrite's fee is nonrefundable.
About this event
CMHA's Psychological Health and Safety (PH&S) Training program will help individuals who are working to improve psychological health and safety in workplaces. This course is based on the National Standard for Psychological Health and Safety in the Workplace ("the Standard").
This ground-breaking course helps break down barriers and seizes opportunities for those who are supporting the implementation of the Standard. 
Employers recognize this  course  as preparing you with the practical expertise required to help improve psychological health and safety and implement the Standard in the workplace. 
This training will be offered 100% virtually. This may switch to in-person instruction pending COVID-19 protocols.
Date and Time:
December 6th-9th, 2022, 4 Half Days (12:00 pm – 3:00 pm each day)
Learning Objectives 
After your training you will be able to: 
State and demonstrate your ability to adhere to the overarching principles of a CMHA PH&S Professional
Align PH&S with organizational goals and objectives
Prepare employers to proceed with a psychological health and safety assessment
Apply tools to assess and analyze psychological health and safety
Develop implementation plans based on evaluation results
Assess and evaluate implementation plans
Frequently Asked Questions
1. Who should take this training? This training is geared towards a variety of individuals who may be tasked with addressing psychological health and organizational champions for mental health in the workplace are also encouraged to register. Our participants come from many departments including: Human Resources, Executive Leadership, Business Development, Project Management, IT, etc.
2. Are there any pre-requisites for this training? There are no pre-requisites for this training. However, it is helpful for participants to have good working knowledge of the Standard prior to registering. If this is your first time working with the Standard, information will be provided to you before starting the training.
3. Is there pre-work for the training? Yes, there will be 2-4 hours of pre-work before the training. Participants will receive a list of required and recommended reading a few weeks prior to the training dates. They will be required to complete a knowledge test based on this reading in order to participate.
4. How is the training structured over the four days? Using a case study approach, each participant will work in a small group to complete various hands-on informal presentations. NOTE: For our virtual training, participants will complete four half-day sessions from 9am-12pm EST (see dates/time in registration).
5. Is there a final exam at the end of the training? No, there is not a final exam at the end of the training. Participants will be scored on their proven ability to achieve specific objectives for each module.
6. Do I have to attend the full four-day course? Yes. In order to complete the course, and to fully benefit from the training, all participants must complete the four half-day consecutive training program. If unforeseen circumstances arise (e.g., family emergency), reach out to your facilitator when possible to discuss completing the rest of your training at a future date.
7. How will participant stay connected to the Collaborative after the training? Participants will be part of an exclusive CMHA PH&S community of practice. Through the collaborative, participants will receive new information about CMHA workplace initiatives including events, tools, and resources.
8. Can attendees outside of Ontario attend this training? Due to restrictions this training is only available for attendees/participants residing within Ontario.
9. If I cancel, will I get a full refund? We will process the full refund minus the Eventbrite transaction fee. The fee withheld by Eventbrite is $56.84.