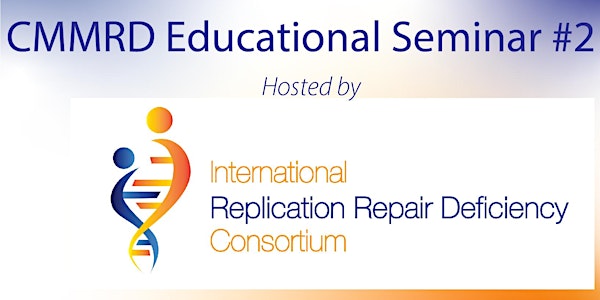 CMMRD Educational Seminar #2
The International RRD Consortium proudly hosts "CMMRD Educational Seminar #2"
About this event
This is the second event of The Replication Repair Deficiency Educational Series and will specifically focus on constitutional mismatch repair deficiency (CMMRD) syndrome as well as somatic MMRD cancers.
These events are geared towards providing patients, families, and genetic counsellors with new information on syndromes associated with replication repair deficiency, and will be designed with a special focus on oncology. We encourage our global collaborators (physicians, and scientists) to participate and join the discussion as we aim to present new findings that have not yet been disseminated.
This seminar will have two speakers and will include a brief question and answer period following each presentation. The first talk will be given by Dr. Anirban Das who will be presenting the results of a large study on the use of immunotherapy for treating hypermutant cancers. Our second talk will be given by Brian Chung and will describe a new tool (currently in the process of clinical translation) for diagnosing CMMRD.
We hope that through these ongoing seminars, those involved with our consortium and/or those affected by CMMRD and other RRD syndromes are able to learn about new research findings and recognize the importance of their collaborations with us. This work would not be possible without you.
Please register for the event to receive the webinar link, which will be circulated a week before the event. For those who cannot attend live, the talks will be recorded and disseminated to those registered following the event.
PLEASE USE THIS LINK TO JOIN THE WEBINAR:
https://us02web.zoom.us/j/87664418153