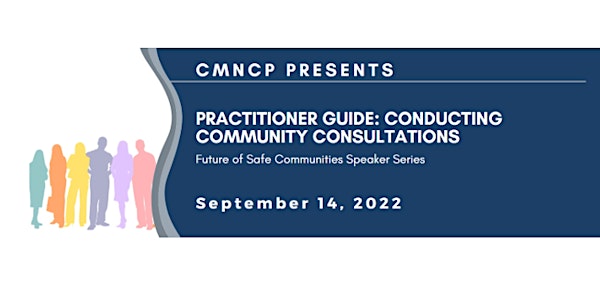 CMNCP SPEAKER SERIES - Conducting Community Consultations
Join us for the official launch of CMNCP's Practitioner Guide on Community Consultations.
About this event
Join the Canadian Municipal Network on Crime Prevention for a webinar and official launch of our new Practitioner Guide on Conducting Community Consultations. This event is part of CMNCP's Future of Safe Communities Speaker Series.
Description
Community engagement is imperative for effective approaches to enhance community safety and well-being (CSWB). Input from individuals with local, lived experience is key to ensuring any community strategy can effectively address local challenges and enhance the lives of residents. At the same time, the process through which community members are consulted can (and should) vary, depending on multiple factors. CMNCP's Practitioner Guide on Community Consultations is intended as a resource for communities seeking to collect local feedback to inform CSWB plans, or other efforts requiring resident input. Based on evidence, best-practice, and experience working with community members, the Guide provides recommendations on which community groups to engage (e.g., equity-deserving groups, local stakeholders, etc.), along with several process-related considerations when planning community consultations. Along with an overview of the document, webinar participants will hear about the experience and learnings of several practitioners who have previously conducted community consultations as part of their CSWB plan development process.
Presenters
Katie Cook(Canadian Municipal Network on Crime Prevention)
Kelly Husack (City of Regina)
Michelle Jehn and Laurel Sakaluk (Strathcona County)
Leroy Berndt (CMHA - Regina Branch)
Time and Date
Wednesday, September 14, 2022
10:30 am (PDT) / 11:30 am (MDT) / 12:30 pm (CDT) / 1:30 pm (EDT) / 2:30 (ADT)
Registration Deadline
Please register by September 9, 2022.
If you have any questions, please contact admin@cmncp.ca.
Interested in getting monthly news on research, training, funding on crime prevention? Click here.