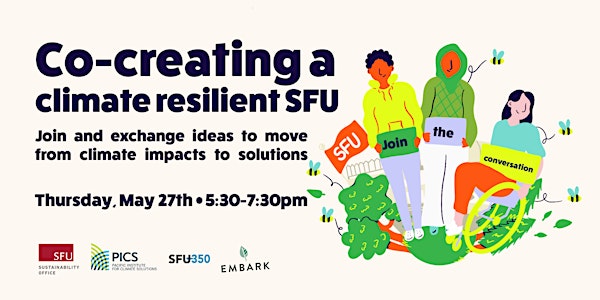 Co-creating a Climate Resilient SFU
Join us for an evening of interactive dialogue with SFU's community to exchange ideas and insight towards a climate resilient SFU.
About this event
The SFU Sustainability Office, Embark Sustainability Society, SFU 350, and the Pacific Institute for Climate Solutions have teamed up to host an evening of community dialogue, inviting SFU community members to share their ideas and experiences with climate impacts and adaptation on campus! This event will provide students, staff, and faculty a chance to share their perspectives on what it means to build a resilient community as the climate changes. The goal is to introduce SFU's work so far in developing a Climate Resilience Plan and to provide a platform for community members to contribute their insights and input into what SFU can do now.
Increasing temperatures in and out of buildings on campus and extreme snowfall events are just two consequences of climate change currently felt by community members at SFU's three campuses. Projected changes in climate include hotter summers, increased wildfires, extreme weather events, and increased precipitation, which could lead to health and safety hazards for the community. Other potential consequences include decreased productivity of students and staff, risk of loss of research data, and increased difficulty in operating labs and classrooms. These are just a few reasons why climate adaptation is crucial for a sustainable and climate resilient future at SFU.
This event will consist of numerous dialogues that center on engaging the broader SFU community (students, faculty, staff) to share their input on the anticipated impacts and risks that the university will experience from the shocks and stresses of climate change. This dialogue aims to provide a better image of what the community considers to be important and what actions SFU should further take to accommodate these needs. Note that this event will be focused on climate change impacts and climate adaptation actions. If you would like to read more about SFU's climate mitigation efforts, you can access the 2025 Strategic Sustainability Plan.
During the event, attendees will be asked to share images of how you've seen impacts of climate change around you. If any participants would like to prepare beforehand, we encourage them to come prepared with some images they wish to share for this digital activity.
Attendees will be entered in a draw to win a $50 gift card!
*The insights from this event will directly contribute to the development of an SFU Climate Resilience Plan. While this event will not be recorded, we will be taking notes from the discussions.
ACCESSIBILITY, TECHNOLOGY AND PRIVACY
Accessibility
Closed captioning will be available for this event.
We will be able to offer ASL interpretation for this event. For us to book and secure an interpreter, please let us know at rite_steele@sfu.ca by Thursday, May 20th at 4pm.
Registration and password
A zoom link and password to access this event will be sent to all registrants via email before the event.
Technology requirements
This workshop will be presented in a participatory webinar format. To engage fully you will need:
A laptop, computer, or smartphone
A webcam
A microphone
Speakers or headphones
Protecting your privacy
To ensure that we are using online meeting technology in a privacy-conscious way, we are following best practices for this online event series:
We will only circulate the meeting link to those who are registered for the event
We will password protect the meeting
Community guidelines
Above all, there will be zero tolerance for those who promote violence against others on the basis of race, ethnicity, national origin, sexual orientation, gender identity, religious affiliation, or different ability. Anyone who incites harm towards other participants (be it through the chat, video or audio functions) will be removed at the discretion of our technical team and moderator.
Be as present as possible (put away phone, close/mute tabs).
Thoughtful questions are welcome in the chat throughout the session. If your question is for a particular speaker, type "@name" at the beginning.
Respect the opinions of others. Every participant brings information, points of view and ideas to contribute.
Don't assume pronouns/gender/knowledge based on someone's name or video image. We can refer to people using the usernames they provide!
Make space, take space: if you've asked a question or shared a comment, ensure that new voices are heard before you contribute again.
Practice self-care: if you need to get up or take a break, please feel free
QUESTIONS
If you have any questions, concerns, or comments regarding this event, please contact Rita at the Sustainability Office at rita_steele@sfu.ca.