Sales Have Ended
Ticket sales have ended
See you at the conference!
Sales Have Ended
Ticket sales have ended
See you at the conference!
Description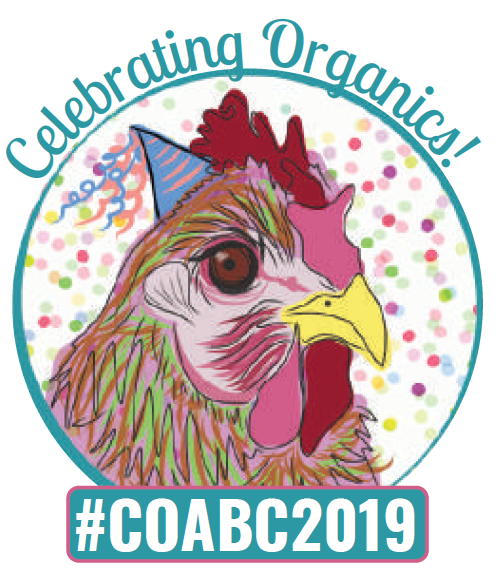 Register to attend the #COABC2019 Conference at the Prestige Hotel in Vernon while early bird tickets are still available! This year we are celebrating the 26th Anniversary of the COABC and we are pleased to have a plenary keynote to present to you. Attending our conference provides educational and networking opportunities for new and established farmers, as well as for the general public. We feature educational topics presented by knowledgeable speakers who are experts in their field.
Our theme this year, Celebrating Organics, is inspired by the stories and experiences of BC's organic farmers and the history of the organic sector. We will celebrate the hard work that has been done by farmers to researchers to retailers, and everyone in between, to build a resilient future for the organic sector. When we stand together, our message is stronger: organic agriculture, based on soil health and care for the environment, is the path to building a better food system. And we're being heard. The public continues to demand organic products and government has provided consumer clarity by regulating the term "organic".
Join us for our official kick-off to the weekend: Friday evening is our conference reception at 6:30 pm. We are very pleased to host the return of the Open Space after a hiatus last year. This idea-generating session will have us breaking off into free-flowing groups and holding discussions around all things organic. This is a great opportunity to mingle and exchange ideas with like-minded organic folk.
The rest of the reception is an event that you won't want to miss: welcoming remarks paired with organic hors d'oeuvres made from locally sourced ingredients donated by our amazing community of growers. We'll be washing those down with organic wine and our annual Organic Ale Tasting hosted by Crannóg Ales. Friday night kicks off a busy weekend that never seems to leave enough time for visiting, so we hope to see you there!
Saturday morning will start with our keynote address. This year, we are approaching our keynote presentation in a new and exciting way by hosting a plenary session. This will be a moderated panel of three speakers displaying a variety of experiences and backgrounds. In this presentation, our plenary will each introduce our theme of Celebrating Organics in a different way based on each of their own backgrounds. Specific challenges, developments, and opportunities will be identified and discussed.
Our other presentation summaries are on the conference workshops and presenters pages of our website below. We work hard to provide educational workshops and presentations that span the interests of every field within the organic world, in others words - there's something for everyone and a lot of knowledge in the room.
To read our presentation summaries on the COABC Conference Page https://www.certifiedorganic.bc.ca/
---
Choldcare: We have childcare available. Please contact the conference coordinator (conference@certifiedorganic.bc.ca) to arrange
COABC Trade Show: The COABC conference features an exciting Saturday trade show between 7:30am-2:30 pm. Located right beside our main event - this is a great opportunity to discover new resources and products that could be integrated into your farm operation.
Later Saturday...
Our COABC Silent Auction! Please indicate on your registration is you would like to donate something, this is a fundraiser our event depends on to help cover overhead costs.
Young Agrarians Mixer: All ages welcome! This event is for the young and the young-at-heart. Meet other awesome agrarians, who value food, farmers, nature and community. Connect and find out who is in the room, doing what, and where with local food.
---
Please Visit our Conference Website (certifiedorganic.bc.ca/infonews/conference2019/) for more details and our Program-At-A-Glance
---
Cancellation Policy: The COABC will refund registration fees less a 25% service fee until Feb. 18, 2019.
Cancellation requests must be made in writing to the Conference Coordinator to the following address:
COABC, 202 – 3002 32 Avenue, VERNON, BC V1T 2L7
Refunds will not be provided after Feb. 18, 2019 and refund payments will be prepared after the conference.
Don't forget to use #COABC2019 !