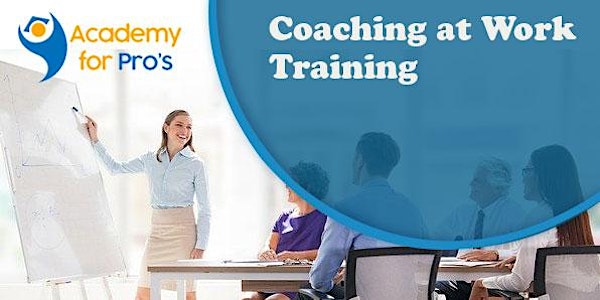 Coaching at Work Training in Spain
Our classroom training provides you the opportunity to interact with instructors and benefit from face-to-face instruction.
When and where
Location
For venue details reach us at: info@academyforpros.com 08017 Madrid Spain
Refund Policy
Refunds up to 7 days before event
About this event
Certificate: Course Completion Certificate Language: English
Duration: 1 Day Credits: 8
Course Delivery: Classroom/ Virtual Live/ On-Site
Location: Madrid, Barcelona, Valencia, Sevilla, Zaragoza, Malaga, Murcia, Palma, Las Palmas de Gran Canaria, Bilbao, Alicante, Cordoba, Valladolid, Vigo, Gijon, Eixample, L'Hospitalet de Llobregat, Latina, Carabanchel, A Coruna, Puente de Vallecas, Sant Marti, Gasteiz / Vitoria, Granada, Elche, Ciudad Lineal, Oviedo, Santa Cruz de Tenerife, Fuencarral-El Pardo, Badalona, Cartagena, Terrassa, Jerez de la Frontera, Sabadell, Mostoles, Alcala de Henares, Pamplona
Course Overview:
Anyone that coaches as a part of their job role would benefit from this coaching skills training as when delivered you will help develop your practical skills and ensure you are demonstrating coaching behaviours that will nurture those around you.
Coaching skills have become an important tool in the armoury of great leaders and people that work with developing others as they encourage empowerment and self-belief. This coaching skills training course materials solidify that approach and put structure and clarity around coaching behaviours, whilst demonstrating the ability to coach without masses of paperwork and 'rules'.
This specific training focuses on all aspects of coaching in the workplace and will ensure you are able to coach others as part of your normal working role.
Course Contents:
Coaching has become a critical element of team development and yet it is rarely understood and often implemented poorly. This training will provide you with a core understanding of the methods of coaching and give them core skills that will enable you to practically carry out coaching in the workplace.
It moves away from the viewpoint that coaching must be process driven and bureaucratic and will help you appreciate that coaching is an everyday occurrence that, when performed correctly, can be enlightening and fun.
Course Topics:
What coaching is about…and what it isn't about – Exploring the important elements of coaching as well as identifying the factors that should not be included when coaching.
Applications of Coaching – Discussing where coaching can be applied in the workplace
Coaching in Practice – An in-depth exploration of coaching through a fun activity. The participants will experience the feelings and relevant associations that a coach may have during a coaching session and then discuss what this means in a practical sense.
Relating it Back to the Workplace – Taking the learning from the previous activity, creating a 'coaching model' and applying it to a practical coaching scenario.
Questioning – Practicing this fundamental element of coaching through discussion, practice and examples. Includes the GROW model and how it can be used in a practical sense.
Active Listening – Reviewing the good and bad of listening and identifying how important listening is to the coaching process.
Coaching in Action – A chance to practice the key skills developed throughout the session.
Please note: Interactive Session.
Course Feature:
At the end of this training, you will be able to:
Explain the principles of coaching, what is, what it isn't and how it works in practical terms
Describe the best time to use coaching in order to ensure it is at its most effective
Practically apply coaching methods that get results in their work environment
Utilise positive questioning and listening techniques that can be applied to coaching scenarios to get the best out of others ability
Certification:
Once after the training you receive course completion certificate from Academy for Pros
Who can Attend?
Anybody who is interested in coaching at work workshop.
Note:
However, catering to the demands of busy professionals, our virtual training programs are as effective as face-to-face learning. Reach us at info@academyforpros.com for dates and details of Instructor Led Live Virtual Session.
If you would like to get this course customized and delivered exclusively for your group, we have an On-Site Training Option you can reach us at info@academyforpros.com for more details about on-site or corporate training.
Offers:
Groups of 3 people 10% Discount
Groups of 5 people 15% Discount
Groups of 10 people 20% Discount