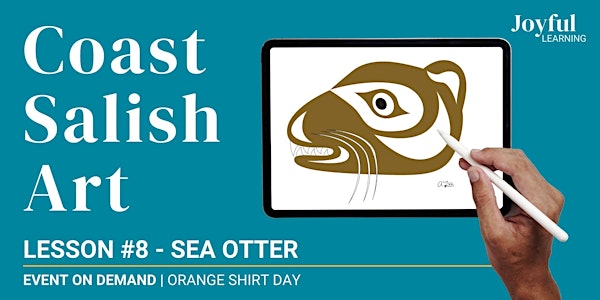 Coast Salish Art - ON DEMAND | Lesson #8 - Sea Otter | Orange Shirt Day
Learn about Coast Salish art & traditional teachings with Andrea Fritz at this Orange Shirt Day event!
About this event
Join us for our first Coast Salish Art class of the school year with artist, Andrea Fritz - just in time for Orange Shirt Day! This class will include a traditional story, drawing practice of the basic Coast Salish shapes, and a guided drawing of an animal from the story – the sea otter!
This event was recorded live on Thursday, September 29, 2022. The Event Recording is now available on demand to watch at a time that works best for you!
Event Details
RECORDED ON: Thursday, September 29
LENGTH: 55 minutes
DESIGNED FOR: Grade 2-5 – Everyone Welcome
FEATURED STORY: Okay to Say I Don't Know
FEATURED ANIMAL: Sea Otter
About the Artist
Andrea Fritz is a Coast Salish artist and author from the Lyackson First Nation of the Hul'qumi'num speaking Peoples on the West Coast of Canada. Andrea strives to express her People's history and all our futures using her art. She focuses on animals and scenes of the West Coast of Canada and our intricate relationships with them.
Companion Teaching Resources
We have created a collection of companion teaching resources to save you time and help you make the most of your virtual experience with us. Our free Orange Shirt Day Resource Package featuring lessons written by Adrienne Gear can be found HERE. All other companion teaching teaching resources can be found HERE.
Tickets by Donation
Your generous donation will be used to support the ongoing development of our Indigenous Voices series of events and resources.  Reserve one ticket per class or family. Please select a rate that is possible for you. Visit our Event FAQ page for more information on tickets and event logistics.