COBA presents SANKOFA: Les Rythmes de la Forêt

Daily Event: 11:00 AM (EST)
Event Details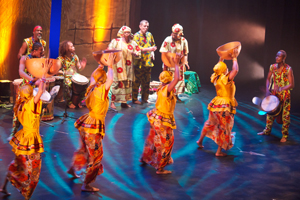 LES RYTHMES DE LA FORÊT, a suite of dances and rhythms from the Sub-Saharan region accompanied by traditional drums and chants. Dances from Guinea, Mali and Senegal were selected to transport the audience to African villages and move them through an experience of folklore and storytelling. The dances and rhythms represent social and ritual events including rites of passage, court traditions, healers, initiations and harvest. 
This excerpt of COBA's remounted mainstage production will be followed by a Q&A session with COBA's artists in the Ada Slaight Hall.   Educators can visit COBA's website at www.cobainc.com/sankofa for more information on student resources.

Refreshments will be available for purchase before and after the performance from the Paintbox Express located in the Artscape Lounge.
The Daniels Spectrum is an accessible facility.  For more information on the venue including directions and parking information, please visit www.regentparkarts.ca.

Where

Daniels Spectrum
585 Dundas Street East
Toronto, Ontario M5A2B7
Canada

Daily Event: 11:00 AM (EST)
Add to my calendar
Organizer
Founded in 1993, COBA is deidcated to creating and presenting both traditional and cutting-edge contemporary dance and music that celebrate and reflect an Africanist aesthetic.
Led by artistic co-founders, Charmaine Headley and BaKari I. Lindsay, COBA has evolved over the past 25 years into a charitable organization serving the wider community. Offering dance and drum classes for children, a professional training programme (PTAP), open classes for teens, adults and seniors as well as educational workshops for schools, COBA continues to fulfill its mission to preserve and promote the cultural traditions of Africa and the African Diaspora through research, education and performance.