Cochrane Canada Symposium 2018
Description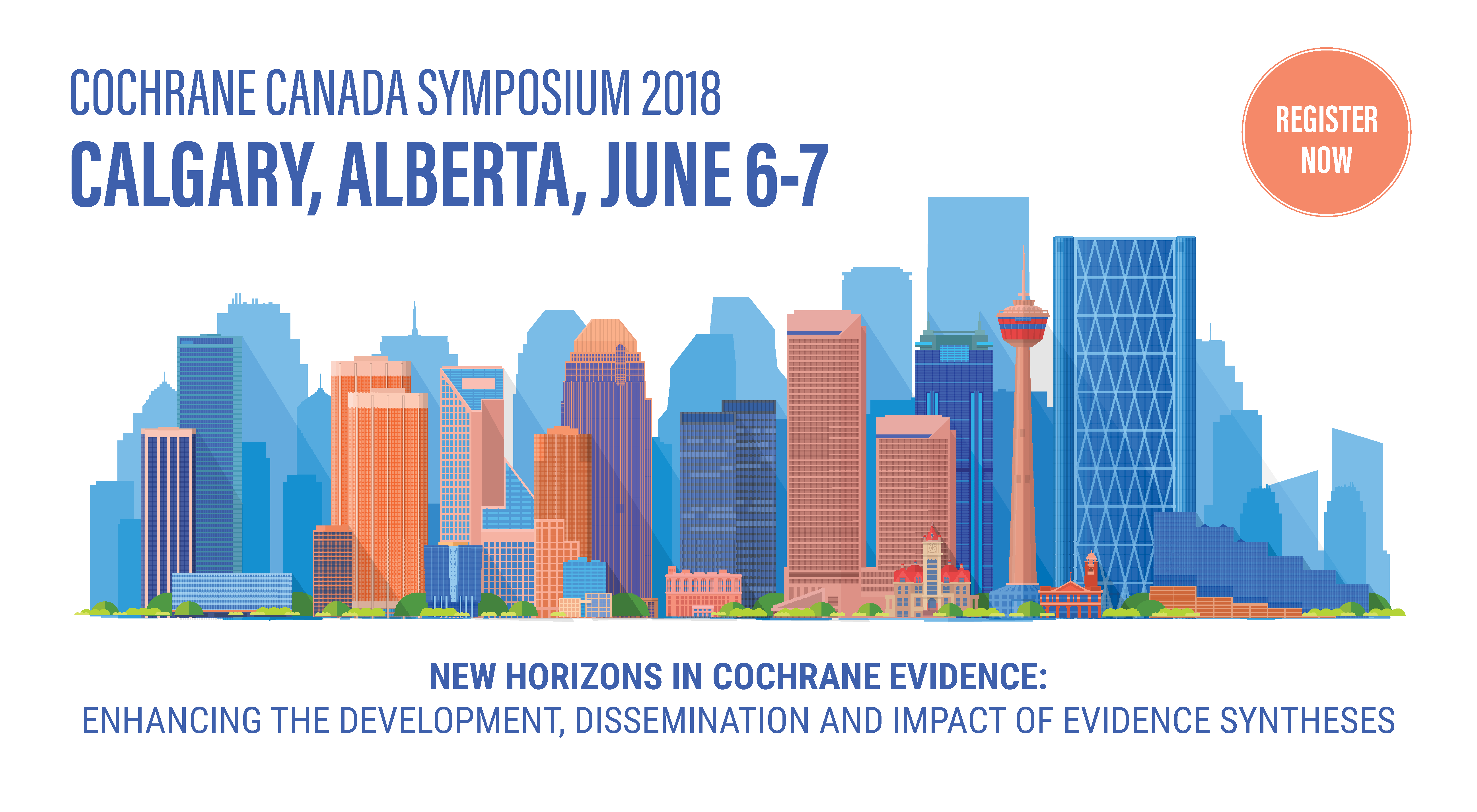 Cochrane Canada Symposium 2018
Cochrane Canada will resume its annual symposia series on June 6 and 7, 2018, in Calgary, Alberta. Located in southwestern Alberta - approximately 80 km from the foothills of the Canadian Rockies - Calgary is Canada's third largest municipality. Home to more than 1.2 million people, the city boasts an endless list of popular tourist destinations, including Calgary Zoo, Calgary Tower, Canada's Sports Hall of Fame and Glenbow Museum.
Cochrane Canada Symposium 2018, co-hosted with the Alberta SPOR SUPPORT Unit Knowledge Translation Platform, is about forging ahead into new horizons to develop fit-for-purpose evidence syntheses, carry out effective knowledge translation, and create lasting impacts on health care and health. Our collaborative team of volunteers – many of whom are world leaders in their respective fields – gather, synthesize, publish and support the use of the best available evidence in the optimal format for those who need it most – a mission we have championed for more than two decades.
Cochrane evidence plays a key role in health decision making, from the patient trying to live well with their health conditions and the practitioner helping a patient make an informed choice about their care, to the policymaker planning healthcare services and the international agency leader addressing a humanitarian crisis.
Addressing stakeholder needs has led Cochrane to expand its comprehensive and innovative suite of products, which now includes living systematic reviews, rapid reviews, complex reviews, evidence summaries and review-derived patient materials. Moreover, Cochrane remains at the forefront of the development of new methods and training in critical appraisal and risk of bias, while harnessing technological advances to build a sustainable infrastructure for knowledge translation.
So, join us at Cochrane Canada Symposium 2018 as we offer consumers, practitioners, policymakers and managers, researchers and research funders the ideal forum to forge strong, meaningful partnerships and to discuss how to:
empower and engage patients with review-derived patient materials;
support health practitioners in efficiently and effectively using reviews and guidelines;
prepare policymakers and managers for a world of living reviews and guidelines; and
inspire the next generation of Cochrane reviewers and authors.
General Registration Information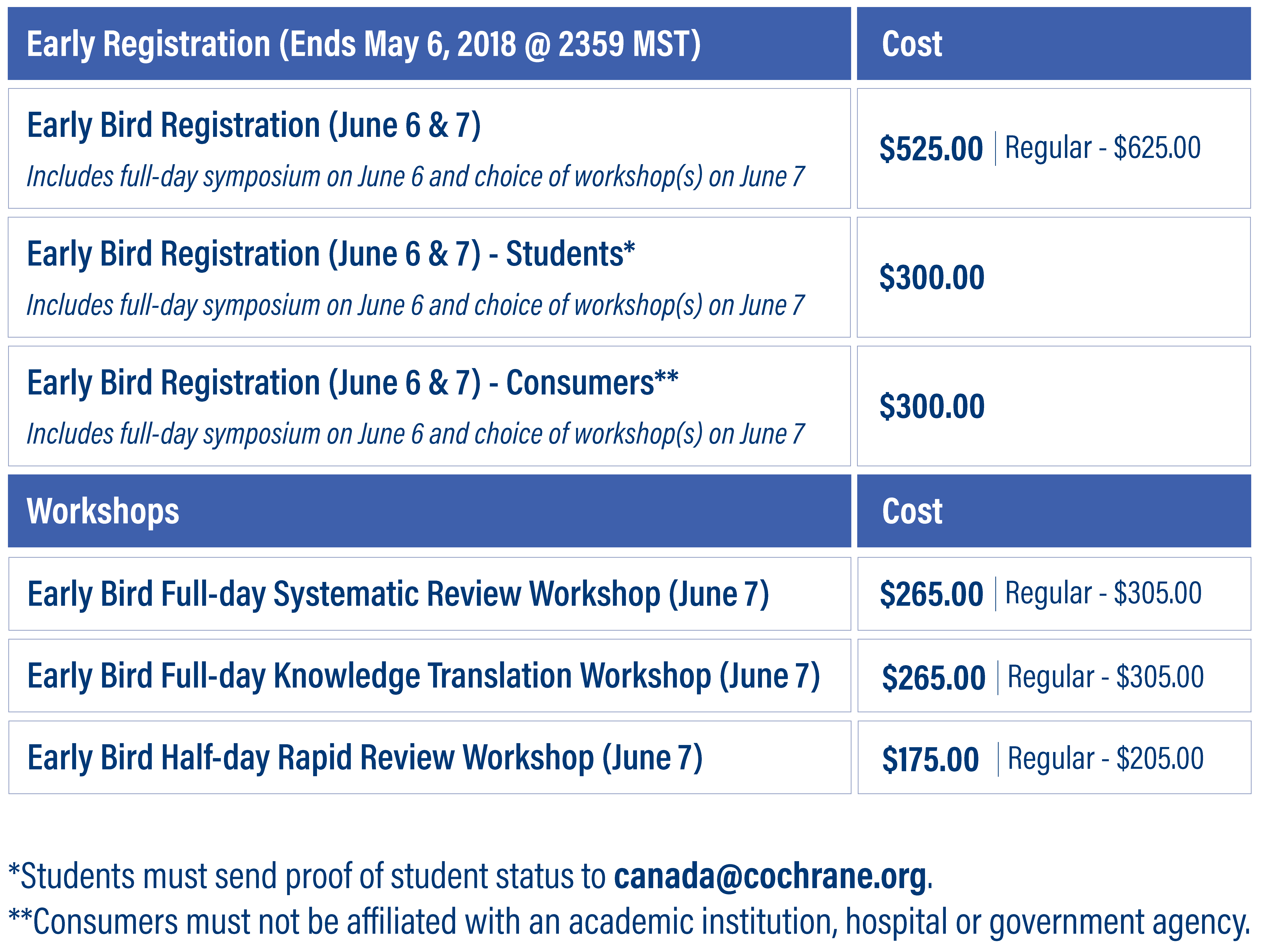 Cochrane Canada retains the information collected in the registration form to send notifications and announcements about this event and does not disclose registration information to third parties. However, to facilitate networking, Cochrane Canada does compile a list of names, organizational affiliations and emails of all Symposium participants.
During the Symposium, pictures and videos of participants may be taken. By registering for this event, you are providing consent to Cochrane Canada to be photographed or videotaped.
Full registration includes:
Participation in all symposium sessions on Day 1 and your choice of workshop on Day 2
Morning and afternoon refreshment breaks and lunches
Social event following Day 1
If you are unable to attend Day 1 but are interested in registering for a workshop on Day 2, please see above for workshop-only fees
Registration payment
Payment for the Symposium can be made online by credit card (Visa, Mastercard and American Express), or by cash or cheque. For more information on registration payment, please contact canada@cochrane.org.
Confirmation of registration
A receipt confirming of your registration will be sent via email prior to the symposium. Your registration is not complete unless a confirmation email is received. If you have not received confirmation within 7 days of registration, please contact canada@cochrane.org.
Cancellation & refund policy
If you wish to cancel your registration, you may do so up to and including May 6, 2018, upon written notice to the event organizers (send correspondence to canada@cochrane.org).
Your registration will be refunded to the credit card of origin, less an administration fee of 25%. Following May 6, 2018, your registration is not refundable.