Event Information
Location
Kitchener Public Library
85 Queen Street North
Kitchener, ON N2H 2H1
Canada
Description
Hackademy is offering some exciting new options for our Winter 2016 series! Come join us for either a Build Class, CodeCrafters Club..... or both!!
Hackademy Build Classes will build on concepts already learned and allow participants to work in a team to complete a specific project. The focus is on having fun, building neat things, and teamwork. We are pleased to announce Build in... Scratch!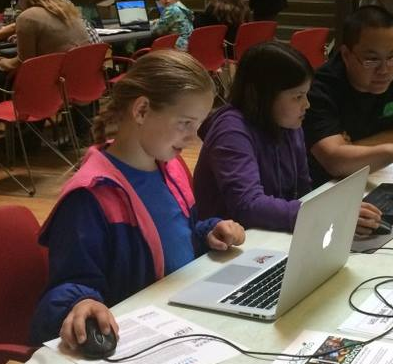 In this 6-week Build Class, participants in grades 5-8 will build upon existing knowledge and experience each week to complete a specific project using Scratch. Participants will have the opportunity to complete a team project and to expand on it on their own afterwards. Get your creativity flowing and walk away with tangible results and more knowledge to share with your friends and family!
CodeCrafters Club is an opportunity for participants in grades 5-8 to work on independent projects in a fun and friendly group environment without the structure of a formalized class. Hackademy mentors will be present to help participants with their projects.
Scratch is a free visual programming language developed by MIT to explore ways of teaching programming concepts. With Scratch, you can easily program interactive stories, games, and animations while exploring key programming concepts. To learn more, go to https://scratch.mit.edu.
Dates and Times
Wednesdays (Class from 5:00 pm to 6:00 pm; Club from 6:00 pm to 7:00 pm)

January 6

January 13

January 20

January 27

February 3

February 10

Class Size
In order for us to focus on each participant's learning, we will be limiting class size to a max of 8 students in this class. CodeCrafters Club has a max of 12 participants.

Prerequisites
This program is catered to inspire kids between grades 5-8. Past experience with Scratch is required. Participants will need to be familiar with the Scratch interface and scripts.
Requirements
Please bring a laptop with wireless Internet connectivity and power adapter. The laptop must be capable of running the Scratch application. You can try the web version at https://scratch.mit.edu. A mouse is strongly recommended.
Discount Codes
Bring a Friend Discount: If you decide to bring a friend, both of you will receive a $20 refund at the end of the session upon completion. Please let us know in the registration survey!
About your instructors:
CodeCrafters instructors and mentors bring a wealth of experience with technology: they work as programmers, technical designers, teachers and trainers, and some are still students themselves at local schools like the University of Waterloo. They all share a common goal: to help build young citizens with 21st century literacies, within a community and culture of joyful learning and inclusive participation.
Refund Policy - Satisfaction Guaranteed
Your payment guarantees your seat in the course. If you cannot attend the course, you may sell or give your seat to someone else as long as you let us know before the first class. If you cancel within 5 days of the start of the course, you will be charged for the first class and an administration fee. Cancellations that are received more than 5 days before the start of the course will receive a full refund.
If you have to cancel anytime after the first class, please notify us immediately. If you aren't satisfied with the course for any reason, we want to know about it and make it right! If you still need to cancel, we'll refund your program fee on a pro-rated basis, so that you'll pay only for the classes that have already occurred, plus an administration fee. We want you to be 100% satisfied with our program!
If Hackademy cancels a class due to inclement weather, a make-up class will be offered on an alternate day, sometimes at an alternate facility if necessary. We will do our best to ensure that participants don't miss out on even one week of our exciting program!
If Hackademy cancels a course or session, all participants will be fully refunded the full program cost. Participants may choose to transfer a registration to a future Hackademy course if desired.
Partners
Hackademy is affiliated with the following organizations:
Stay in the Loop
Join our mailing list! http://bit.ly/12u9gQS
Date and time
Location
Kitchener Public Library
85 Queen Street North
Kitchener, ON N2H 2H1
Canada