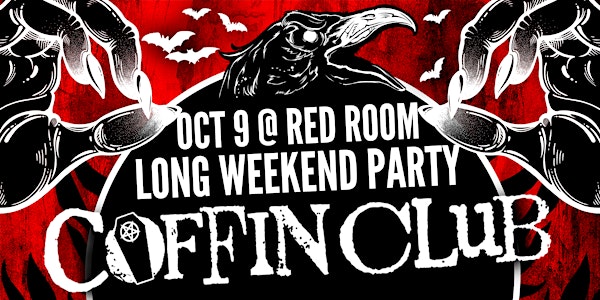 COFFIN CLUB ~ Long Weekend Party ~ Tickets!
Dance all night to a mix of DARK ALTERNATIVE CLASSICS / POST-PUNK / RETRO / 80s / 90s / INDUSTRIAL / ROCK / EBM / TECHNO / SYNTHPOP & MORE!
When and where
Location
The Red Room 398 Richards Street Vancouver, BC V6B 4Y2 Canada
About this event
Life is short, come dance! Summon up a posse and join a dark alternative scene invasion of the legendary Red Room on a rare long weekend Sunday and dance the night away with the Restricted Entertainment DJs to an electrifying mix of old school classics and brand new favourites through all the following flavours and more ...
- Dark Alternative
- Post-Punk
- Retro / New Wave / 80s / 90s
- Industrial / Rock
- EBM / Techno
- Synthpop
STOMP & SWOON all night to genres across every corner of the dark alt spectrum + left field surprises. Nothing is sacred!
Come dressed super freaky, fetish, all black, or completely casual in jeans and a t-shirt! You don't have to be a goth to have a good time at goth night! Dressing up is always encouraged but comfortable and casual is always great too.
Coffin Club has a broad appeal across many scenes, including those who love 80s parties, fetish events, and those who just love to dance to weird & cool underground alternative & electronic music.
We welcome all age groups 19-65+, all gender expressions, all body types, in all-inclusive social environment where we celebrate personal and musical diversity!
COFFIN CLUB was previously named MADHAUS, and even before that, SANCTUARY. Established in 1997, this year we are celebrating 25 continuous years of providing dark, cult, and counter-culture parties in Vancouver!
This party is in fact a throwback to when Sanctuary used to be a resident event on long weekend Sundays at the Red Room! We very excited to return for a one-off!
Big shoutout to DESCENT, the in-house dark alternative event which occurs once a month on regular Sundays at the Red Room, and has been holding down the fort at the venue for the spooky scene for 15 solid years!
Presented with pride by Restricted Entertainment!