Description
What will it take to achieve our goal of a thriving and sustainable economy?
At Sustainability CoLab, we're proud to power a growing and inclusive network of organizations driving the low-carbon economy in Ontario. A network that includes high tech companies, colleges and universities, restaurants, and municipalities, and where we recently welcomed a First Nations community and an international airport. A network that is bringing unlikely participants into the fold and demonstrating that everyone can contribute to and benefit from a more sustainable economy.
Join us at CoLab Connects 2017 to hear why these diverse players have come together through the CoLab Network to pave the way for a more sustainable future and the progress they are making in setting and achieving sustainability goals. We'll explore the value of creating an inclusive movement in shifting business as usual, and the role that diversity and belonging play in creating the scale of change needed. We'll also hear from other groups working to accelerate Canada's transition to a sustainable economy. You'll hear diverse perspectives, likely some points of disagreement, but ultimately, how we will all need to work in concert to accomplish this daunting, but achievable, goal.
A new economy is on the horizon. Join us to see why you, and all Canadians, belong here.
The CoLab Network:

---


Join us to hear voices from within the CoLab Network and other leaders driving the sustainable economy.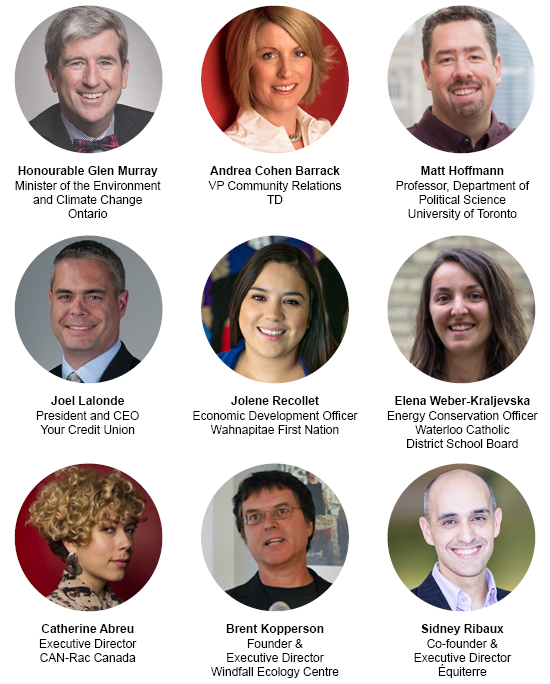 Panel 1: Why are we here?
There are over 200 diverse organizations in the CoLab Network across 8 diverse communities, and yet, they have found a common place to belong. In this panel, we'll hear why some of these organizations have taken the lead on sustainability in their communities and how they see themselves fitting into a larger movement across Ontario, and beyond.
Panelists:
Joel Lalonde, President and CEO, Your Credit Union
Jolene Recollet

, Economic Development Officer, Wahnapitae First Nation

Elena Weber-Kraljevska, Energy Conservation Officer, Waterloo Catholic District School Board
Moderated by Matt Hoffmann, Professor, Department of Political Science, University of Toronto.
Panel 2: How can we work together?
The CoLab Network is just one piece of the puzzle in the shift towards a sustainable economy; there are many other individuals and organizations undertaking crucial work towards the same goal. This panel examines how our varied approaches intersect, reinforce, and at times, conflict with one another, and the importance of belonging and inclusion in advancing our shared goals. It will also discuss how we can more effectively work together to realize an economy that makes environmental sustainability, business success, and human well-being synonymous.
Panelists:
Catherine Abreu, Executive Director, CAN-Rac Canada
Brent Kopperson, Founder & Executive Director, Windfall Ecology Centre
Sidney Ribaux, Co-founder & Executive Director, Équiterre
Moderated by Andrea Cohen Barrack, VP Community Relations, TD.
---
Agenda
4:00-4:45pm: Registration & Networking
4:45-6:15pm: Presentation & Panel Discussions
6:15-7:00pm: Reception & Networking
There will be snacks, hors d'oeuvres, and a cash bar.
---
Presenting Sponsors

Premier Sponsors

Community Sponsors

---