Description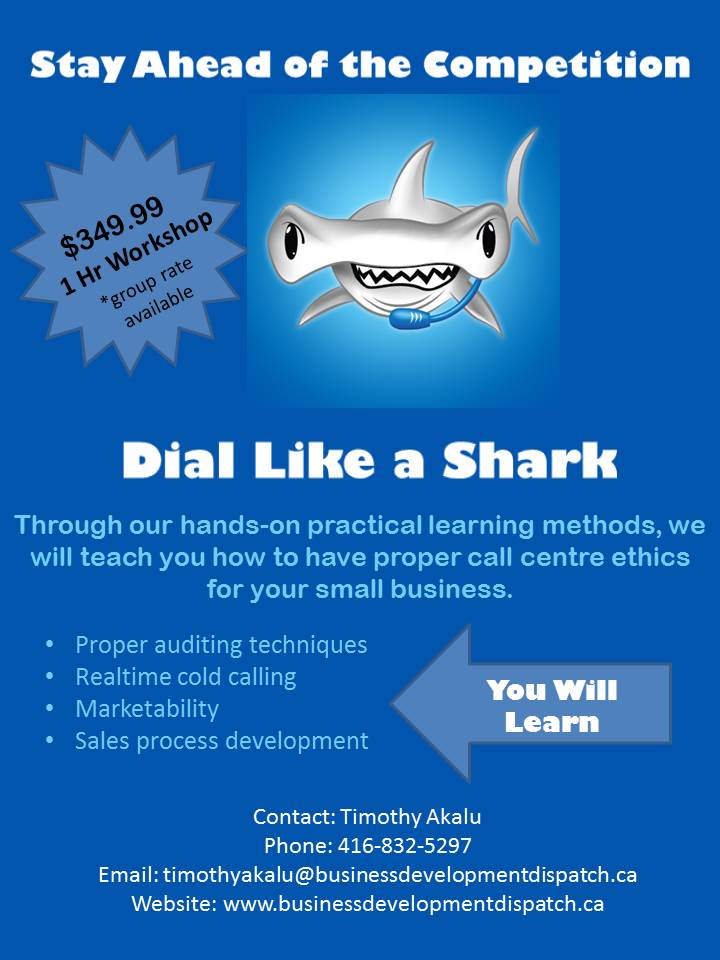 Summary: Whether you're at the beginning stages of a business launch, or even if you have been in business 10 years, take advantage of our customisable workshop. It encompasses a variety of skillset training, such as; B2B Cold Call Sales Training, Start-ups, Employee Training, Business Development, Sales Process & Marketability.

Here's how it works…

Our objective is to teach, coach and train sales reps, small business owners and entrepreneurs, who need to gain phone skills in order to succeed in business, or to gain larger revenue. In addition to improving phone skills, each participant will be provided a realtime cold calling opportunity to actual leads that are sourced by our company. For those who register early, your cold call will be coordinated in advance with one of our BDD partners, which will allow you an opportunity to complete an entire sales pitch. No information about you is shared with our leads; therefore it makes for a conducive conversation and a realtime cold call. During that time your BDD trainer will be evaluating your call. Within the following 2-3 business days of the workshop, you will receive a Quality Assurance form with all your feedback. Based on your cold call performance, the workshop will continue and will be customised to meet the following;

1. Strategic sales process development that will increase your revenue.
2. Discover new and improved marketability factors for your products and services.
3. Proper auditing techniques so that leads don't slip through the cracks.
4. Script writing and development.
5. Personalized attention with an expert at your side.
6. Hands-on learning materials that will develop your critical, practical and higher level thinking.
7. Self-discovery learning about the type of salesperson you are.
We offer one-on-one workshop facilitation which takes between 1-1.5 hours to complete.
A group of 3-5 participants will take approximately 2.5-3 hours to complete.
A group of 5-10 participants will take approximately 3-4.5 hours to complete.
A group of 10+ up to a maximum of 20 per class could take approximately 6 hours.

You can also order directly online through our e-commerce website. Please click below;
https://businessdevelopmentdispatch.ca/products/bddconsultingworkshop