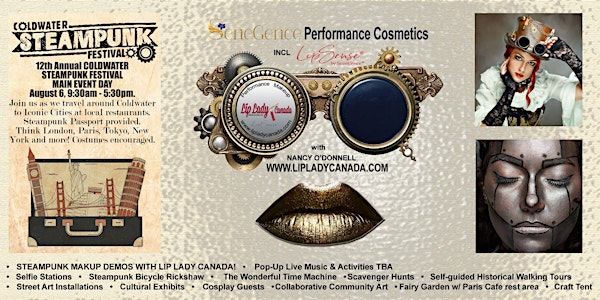 Coldwater Steampunk Festival LipSense SeneGence Theatrical Makeup Shop
Location
Coldwater Steampunk Festival
20 Coldwater Rd
Coldwater, ON L0K 1E0
Canada
Join Nancy O'Donnell, Lip Lady Canada for FREE STEAMPUNK Makeup Demos with SeneGence Budgeproof Longlasting Performance Cosmetics & LipSense
About this event
It is the 12th Annual Coldwater Steampunk Festival on Saturday, August 6, 9:30am-5:30pm and the streets of Coldwater will be lined with Amazingness including our Pop Up Shop! Join Nancy O'Donnell, Lip Lady Canada for FREE STEAMPUNK Makeup Demos with SeneGence Budgeproof Longlasting Performance Cosmetics & LipSense! Full Face Looks are Easy with SeneGence Cosmetics, including ShadowSense, Liners, LipSense, Pearlizer and More! All of our products are Vegan, Gluten-Free, Kosher, Wax Free, Lead Free and Not Tested on Animals. Totally transfer and budgeproof, you can sweat and even swim in our products!!! PERFECT for Performance makeup for both men and women!
The excitement will be non-stop all day at this fabulous annual festival that brings Steampunk Victorian Futuristic Cosplay to life! Coldwater Steampunk Festival Invites you to "TRAVEL TO ICONIC CITIES AND TASTE FOODS OF THE WORLD"
Join us for this year's in-town, in-person adventures. Our theme takes creative spirits on a trip to iconic cities. Steampunk Passport provided. Think Paris, London, New York, Tokyo and more! Costumes encouraged but not required.
Art instillations and exhibits are scattered throughout our lovely Village on the River.
In Town Events:
• Selfie Stations
• Steampunk Bicycle Rickshaw
• The Wonderful Time Machine
• Scavenger Hunts
• Self-guided Historical Walking Tours
• Street Art Installations
• Cultural Exhibits
• Collaborative Community Art
• Fairy Garden w/ Paris Cafe rest area
• Craft Tent
• Cosplay Guests
• Pop-Up Live Music & Activities TBA
If you have any questions, please feel free to email me at lipladycanada@gmail.com