Regina's premiere conference on tourism is happening November 3, 2021. Be part of the experience and gain valuable insights.
About this event
Collaborate & Connect is a great opportunity to come together and advance Regina's vibrant Tourism industry. Hear experts speak on trends and best practices in the industry, exchange knowledge and help re-imagine Regina's destination experience, reconnect with peers and hear success stories from local champions. It's all right here.
Why should I attend?
Regina has an amazing story to tell, and tourism and hospitality is at the front end of that story. Collaborate & Connect offers attendees the chance to gain valuable knowledge and insight from industry experts, and to learn about some of the region's up-and coming tourism products.
Learn how our sector came together to meet the challenge of Covid-19, and what our plans are to grow and prosper in 2022 and beyond. Of particular interest, this year's conference offers an opportunity to have a first look at Regina's new brand and learn how you can share in our collective story.
Who should attend?
Collaborate & Connect is open to anyone who has an interest in Regina's amazing tourism and hospitality industry, including:
Tourism Industry Professionals from across Saskatchewan
Students looking to learn about the event/hospitality/tourism industry
Anyone looking to start or grow a business in the sector
Existing restaurants/Hotels/Attractions/Shops/Services owners/manager/staff
Anyone interested in being part of telling Regina's amazing story
What are the details?
November 3, 2021
8:30 a.m. to 4:00 p.m. (Reception to follow)
Hotel Saskatchewan
---
Registration opens September 9
Early-bird rate: $40 (until October 1)
After October 1: $50
Student Rate: $25
To experience more of Regina, check out our digital guides on our website. https://tourismregina.com/learn/guides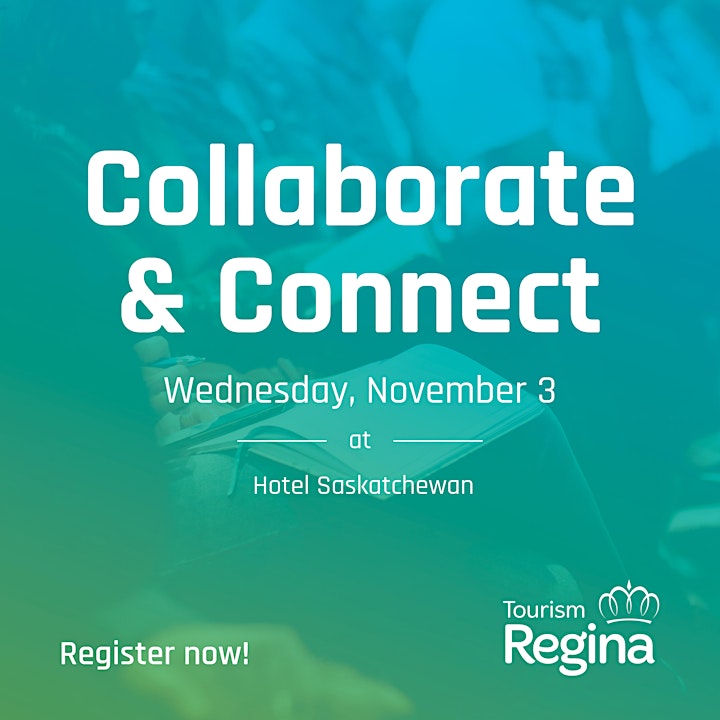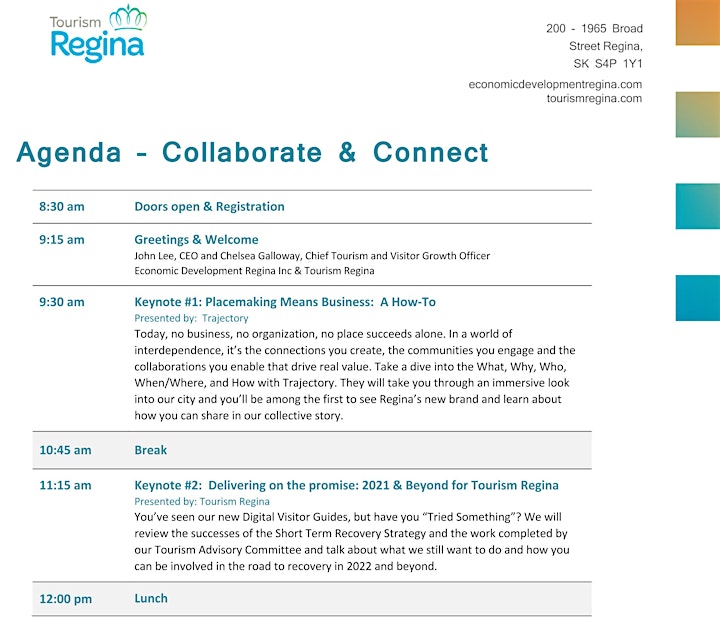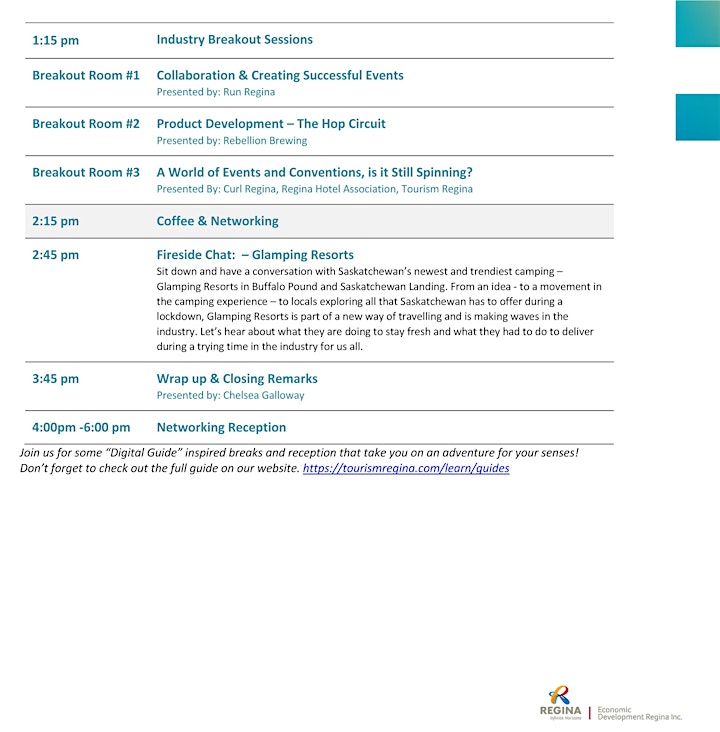 Vaccine Requirement
As per the Provincial mandate: For the safety of delegates, all conference attendees are required to show proof of either vaccination against COVID-19 or a negative COVID-19 test taken within 72 hours of the event at the Collaborate & Connect Registration Desk.