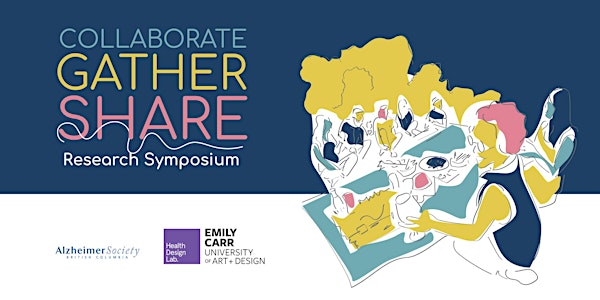 Collaborate Gather Share - Research Symposium
Join us to see what meaningful public partnership in research can look like and learn about how you can be involved.
By Alzheimer society of BC and Emily Carr University
Date and time
Tue, May 10, 2022 10:30 AM - 12:00 PM PDT
About this event
We invite you to the Collaborate Gather Share- Research Symposium. This is a symposium led by researchers and advocates living with dementia. The goal of the symposium is to talk about the inclusion of people with dementia in research projects (not just as participants/subjects), to show examples of projects where this has been done, and to generate discussions and insights.
This event will be an opportunity to foster connections between researchers and people with lived experiences who have participated on research projects before, or people living with dementia who may be interested in participating in the future and wish to learn more. People living with dementia will present research projects that they have been involved in. We will reflect on the process and share our insights.
Join us to see what meaningful public partnership in research can look like. Learn about how you can be involved in research projects that amplify lived experience expertise and shape relevant and meaningful outcomes.
EVENT AGENDA:
10:30 -11: 30 - Short presentations highlighting 3 Research projects presented by people living with dementia. More descriptions on projects and presenters to come- stay tuned!
11:30 - 12:00 - Open conversations in small groups about research collaboration experiences.
This research symposium is a part of a larger project called Collaborate Gather Share initiated by the Health Design Lab at Emily Carr University and the Alzheimer Society of BC. For more information on the project, please see https://research.ecuad.ca/healthdesignlab/2022/03/09/collaborate-gather-share-research-symposium/
RESEARCH PROJECTS PRESENTING:
Raising The Curtain ON THE LIVED EXPERIENCE OF DEMENTIA
Raising the Curtain (RTC) is a Community Based Participatory Research (CBPR) project guided by the principles of inclusion, participation, and social justice. RTC uses CBPR and Community Engaged Arts Practice (CEAP) to collaborate with educators, artists, health care providers, and people with lived experience of dementia. In RTC, CBPR and CEAP processes are co-developed to elucidate social justice issues related to aging and dementia. Through using a participatory approach to creative engagement, they aim to challenge dominant discourses of aging and dementia and to foster citizenship for individuals with lived experience of dementia.
The Telepresence Robot Project
This research project focuses on the use of robotics in helping reduce loneliness and social isolation amongst people living in long term care homes to improve their quality of life. The project adopts a public partnership approach to offer a set of practical guidelines for the safe implementation and ethical use of robots in long term care. Jim Mann and Lilian Hung will share their experiences collaborating in the project to highlight thee value of fostering relationships in research.
Flipping Stigma on Its Ear: Taking Action Against Stigma and Discrimination Associated with Dementia
As a Participatory Action Research study, at the centre of the "Flipping Stigma" Project is an Action Group of people living with dementia. The main focus of this Action Group is reducing the stigma and discrimination that people with dementia experience on a regular basis.
An important and distinctive aspect of the group is that only people with dementia are included, not care partners. Initially, the group met in person once a month. However, when the pandemic started, the group made a successful transition to ZOOM, and began meeting twice per month by request of group members.
The Flipping Stigma Toolkit is the product of many meetings between Action Group members. The toolkit is an online resource with the purpose of recognizing and responding to stigma and discrimination. We are currently in the process of reaching out to various community organizations to better understand how the toolkit may be used in diverse community contexts.