Collection de court-métrage (Famille) 短片集 (60')

Saturday, 23 September 2017 from 11:30 AM to 12:35 PM (EDT)
Event Details

Deux dollars/两元加币/Two Dollars (2016, 9min59)
Emmanuel Tenenbaum|Drame/剧情/Drama|
Canada/加拿大/Canada|Français/法语/French
Après une semaine de congé, Sylvie retourne à l'entreprise québécoise où elle est employée exemplaire depuis plus de 15 ans. Elle est invitée à assister à une réunion bizarre.一周的假期之后,Sylvie回到了魁北克公司被要求参加一个奇怪的会议。After a week of leave, Sylvie is back at the Quebec company.  She is then requested to attend a bizarre meeting.

Le pays des merveilles d'Abdullah/看不见的王国/Abdullah's Wonderland (2017, 28min)
Mingshan Liu/刘鸣山|
Chine/中国/China|Mandarin, Anglais/普通话,英语/Mandarin, English

Afin de guérir les yeux de sa soeur, Abdullah part à la recherche du génie de la lampe...阿卜杜拉为了能让妹妹重见光明,他踏上了一段寻找灯神的旅途…….In order to help his sister see again, Abdullah starts a journey to find the genie lamp...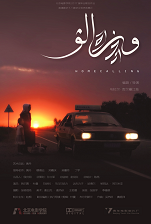 L'appel de la famille/回家/Homecalling (2017, 23min47)
La'Er Wu/乌拉尔|Drame/剧情/Drama|
Chine/中国/China|Mandarin, Anglais/普通话,英语/Mandarin, English
La cadette est expulsée du tribu. Un jour, la famille apprend sa mort. Son corps sera-t-il enseveli selon les traditions de la famille?多年前小女儿不顾家人反对嫁给异族男孩,被父亲赶出家门。女儿车祸身亡后,她的遗体能否带回故乡安葬?A Kazakh girl fell in love with a foreign boy and was therefore forbidden to come home ever since.
When & Where

Hall Building, Alumni Auditorium (H.110) Concordia University 康考迪亚大学
1455 De Maisonneuve Blvd W
Montreal, Quebec H3G 1M8
Canada

Saturday, 23 September 2017 from 11:30 AM to 12:35 PM (EDT)
Add to my calendar
Organizer
CCIFF is hosted by Canada China Art-Tech (CCAT), a non-profit organization dedicated to fostering relations and understandings between China and Canada, by connecting stakeholders in art and technology and digital interactive media, promoting Canadian and Chinese culture, artists to collaborate internationally.