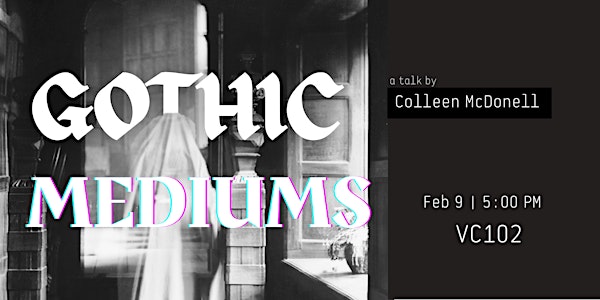 Colleen McDonell, "Gothic Mediums"
Join us for the third talk in our 2022-23 NFC Doctoral Fellow Lecture Series, with NFC Doctoral Fellow Colleen McDonell.
Date and time
Starts on Thu, Feb 9, 2023 5:00 PM EST
Location
Northrop Frye Centre (VC 102) 91 Charles St West Toronto, ON M5S1K5 Canada
About this event
The Northrop Frye Centre is pleased to invite you to the third talk in our 2022-23 NFC Doctoral Fellow Lecture Series, "Gothic Mediums: Representations of Domestic Servants in Wuthering Heights and 'The Lifted Veil'" with NFC Doctoral Fellow Colleen McDonell on Thursday, Feb. 9, at 5:00 pm.
This is a hybrid event. Attendants who register for a virtual ticket will receive a Zoom link in advance of the talk.
About the talk...
For most of Queen Victoria's reign, domestic servants were the largest category of workers, labouring and often living under the same roofs as their employers. At the same time, Gothic fiction became increasingly domesticated: moving away from the remote pasts and foreign places of eighteenth-century Gothic novels, the genre was projected instead onto more familiar, everyday settings for middle-class British readers. My dissertation analyzes servant characters in Victorian Gothic fiction, arguing that these maids, butlers, and housekeepers are often represented as "mediums" in how they interact with the dead and serve as channels of communication between different social classes. In this talk, I take Emily Brontë's Wuthering Heights (1847) and George Eliot's "The Lifted Veil" (1859) as case studies for exploring this servant-medium dynamic and turn briefly to its depictions in magazines of the period. Studying the servant figure in Victorian Gothic fiction provides insight into theories of non-realist genres as well as (mis)conceptions of domestic labour—conceptions that may continue to haunt contemporary literature.
About the speaker...
Colleen McDonell is a Ph.D. candidate in English and the collaborative Book History and Print Culture program. Her dissertation analyzes servants in Victorian Gothic fiction and how these characters serve as intermediaries within the home. More broadly, this work examines domestic space as a nexus between fear and fraught representations of social class and labour. Outside of her research, Colleen has served as the Canadian Graduate Representative for the North American Victorian Studies Association, as a co-convener for the Nineteenth-Century Reading Group in the Department of English, and as a printing volunteer at the Massey College Bibliography Room. She currently works as a writing centre consultant at UofT's Graduate Centre for Academic Communication and, in her spare time, enjoys going on the occasional ghost tour.