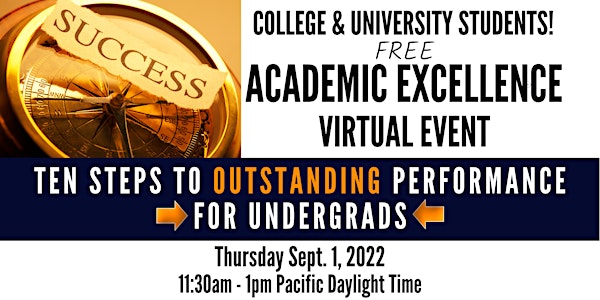 College/University Students! 10 Steps to Outstanding Academic Performance
Wondering what it takes to earn high grades in college/university?
About this event
I teach undergraduate students in college/university how to study, establish high academic performance, and earn high grades, so that they can graduate and secure the dream job of their choosing.
In my assessment, there's no need for students to struggle with low grades, and then contend with the depression, anxiety and missed opportunities that may accompany such an unfortunate situation.
Whether a student is looking to extricate themselves from academic probation, or simply break-through from "B-level" letter grades (e.g., B-, B, B+) to "A-level" letter grades (e.g., A-, A, A+), they can achieve their goals.
Join me for a live interactive Zoom call, in which I'll share 10 steps to outstanding academic performance!
This masterclass is for first- to third-year college and university students who are enrolled in social science courses.