The Sultans of String, 3x Juno winners, take you on a world tour of musical diversity, expanding the traditional notion of Christmas music.
About this event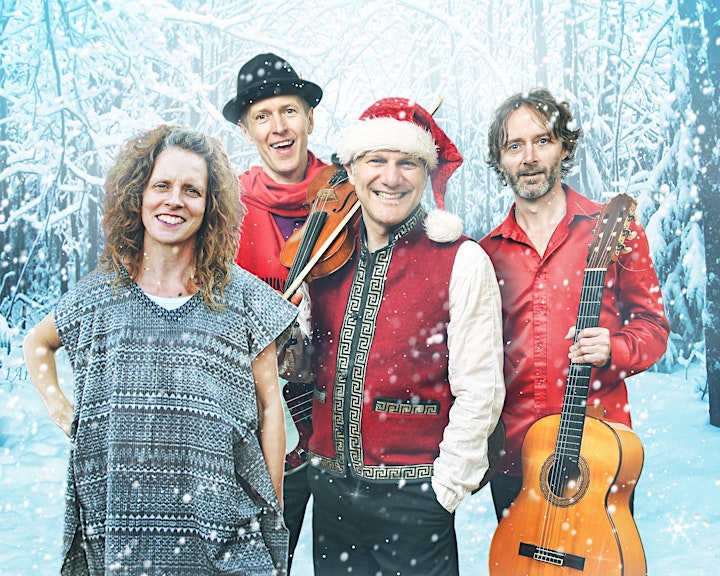 The Collingwood Christmas Market Concert Series is presented by Collingwood Downtown with generous support from the Province of Ontario, Bruce Grey Simcoe and the Town of Collingwood.
The Christmas Caravan Concert takes listeners on a world music tour. 3-time JUNO nominees and 3-time CFMA winning ambassadors of musical diversity Sultans of String have expanded the traditional notion of Christmas music with their new, genre-hopping disc, Christmas Caravan, injecting it with new-found energy and non-traditional sounds. Recorded and co-produced with JUNO Award winning engineer John '"Beetle" Bailey, this isn't your typical holiday experience. You may recognize the titles, but you've never experienced seasonal music quite like this before.
⁻⁻⁻⁻⁻⁻⁻⁻⁻⁻⁻⁻⁻⁻⁻⁻⁻⁻⁻⁻⁻⁻⁻⁻⁻⁻⁻⁻⁻⁻⁻⁻⁻⁻⁻⁻⁻⁻⁻⁻⁻⁻⁻⁻⁻⁻⁻⁻⁻⁻⁻⁻⁻⁻⁻⁻⁻⁻⁻
𝙋𝙧𝙤𝙤𝙛 𝙤𝙛 𝙫𝙖𝙘𝙘𝙞𝙣𝙖𝙩𝙞𝙤𝙣 𝙧𝙚𝙦𝙪𝙞𝙧𝙚𝙙 𝙪𝙥𝙤𝙣 𝙚𝙣𝙩𝙧𝙮.
𝙈𝙖𝙨𝙠𝙨 𝙧𝙚𝙦𝙪𝙞𝙧𝙚𝙙 𝙙𝙪𝙧𝙞𝙣𝙜 𝙥𝙚𝙧𝙛𝙤𝙧𝙢𝙖𝙣𝙘𝙚
All ages are welcome to attend.
⁻⁻⁻⁻⁻⁻⁻⁻⁻⁻⁻⁻⁻⁻⁻⁻⁻⁻⁻⁻⁻⁻⁻⁻⁻⁻⁻⁻⁻⁻⁻⁻⁻⁻⁻⁻⁻⁻⁻⁻⁻⁻⁻⁻⁻⁻⁻⁻⁻⁻⁻⁻⁻⁻⁻⁻⁻⁻⁻
❄️𝗗𝗼𝗼𝗿𝘀 𝗼𝗽𝗲𝗻 𝗮𝘁 𝟴:𝟬𝟬 𝗣𝗠❄️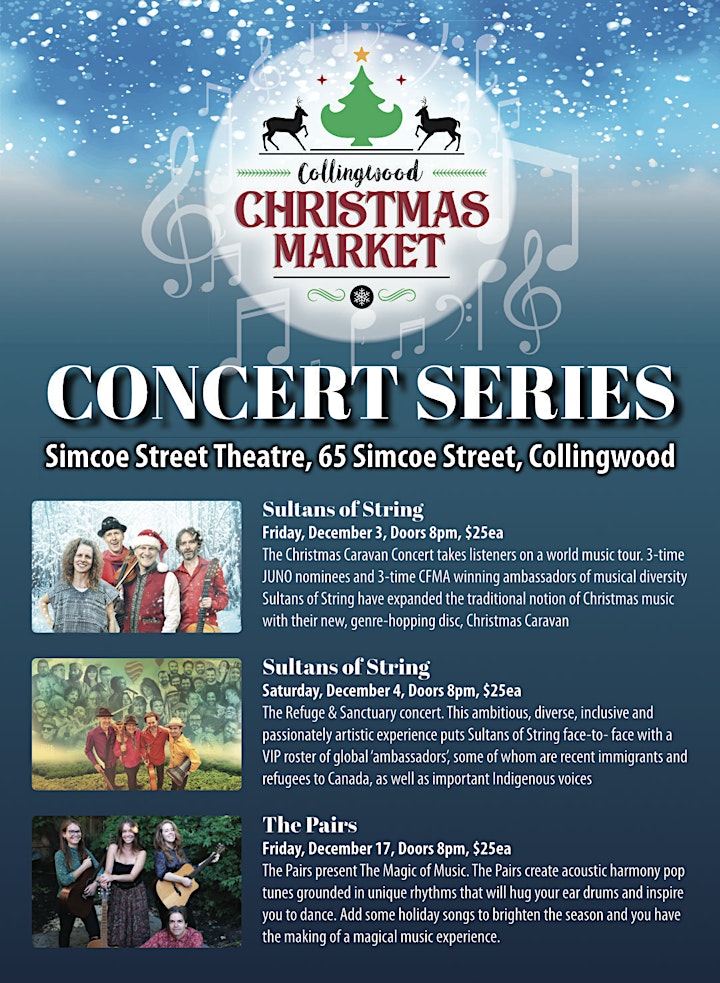 Organizer of Collingwood Christmas Market Concert Series - Christmas Caravan