The Refuge/Sanctuary Show is a diverse, inclusive, passionately artistic experience with VIP global ambassadors and Indigenous voices.
About this event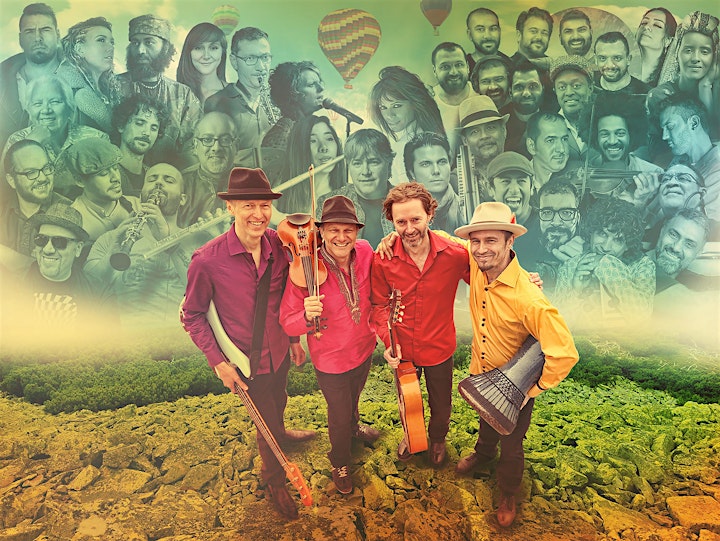 The Collingwood Christmas Market Concert Series is presented by Collingwood Downtown with generous support from the Province of Ontario, Bruce Grey Simcoe and the Town of Collingwood.
The Sultans of String present a unique show that appreciates musical diversity, the challenges faced by immigrants and refugees to Canada, and the overcoming of social and political barriers.
The Sultans of String are 3-time JUNO nominees and 3-time CFMA winning ambassadors of musical diversity.
⁻⁻⁻⁻⁻⁻⁻⁻⁻⁻⁻⁻⁻⁻⁻⁻⁻⁻⁻⁻⁻⁻⁻⁻⁻⁻⁻⁻⁻⁻⁻⁻⁻⁻⁻⁻⁻⁻⁻⁻⁻⁻⁻⁻⁻⁻⁻⁻⁻⁻⁻⁻⁻⁻⁻⁻⁻⁻⁻
𝙋𝙧𝙤𝙤𝙛 𝙤𝙛 𝙫𝙖𝙘𝙘𝙞𝙣𝙖𝙩𝙞𝙤𝙣 𝙧𝙚𝙦𝙪𝙞𝙧𝙚𝙙 𝙪𝙥𝙤𝙣 𝙚𝙣𝙩𝙧𝙮.
𝙈𝙖𝙨𝙠𝙨 𝙧𝙚𝙦𝙪𝙞𝙧𝙚𝙙 𝙙𝙪𝙧𝙞𝙣𝙜 𝙥𝙚𝙧𝙛𝙤𝙧𝙢𝙖𝙣𝙘𝙚
All ages are welcome to attend.
⁻⁻⁻⁻⁻⁻⁻⁻⁻⁻⁻⁻⁻⁻⁻⁻⁻⁻⁻⁻⁻⁻⁻⁻⁻⁻⁻⁻⁻⁻⁻⁻⁻⁻⁻⁻⁻⁻⁻⁻⁻⁻⁻⁻⁻⁻⁻⁻⁻⁻⁻⁻⁻⁻⁻⁻⁻⁻⁻
❄️𝗗𝗼𝗼𝗿𝘀 𝗼𝗽𝗲𝗻 𝗮𝘁 𝟴:𝟬𝟬 𝗣𝗠❄️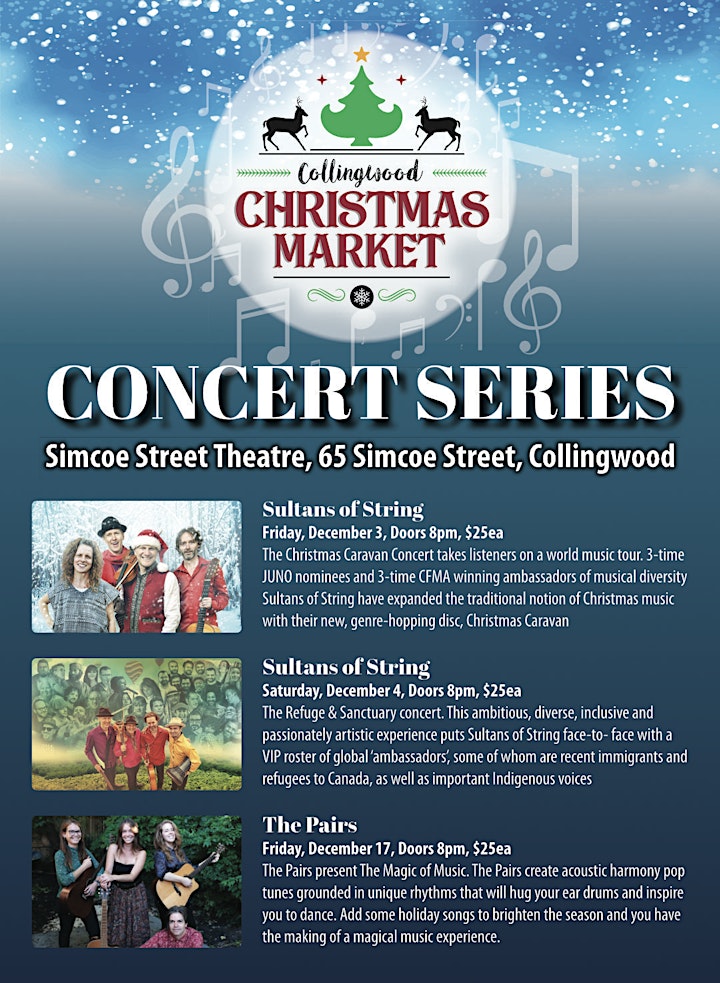 Organizer of Collingwood Christmas Market Concert Series-The Refuge & Sanctuary Concert