COLLOQUE – CAP SUR LA COP 22

Monday, 17 October 2016 from 8:00 AM to 8:00 PM (EDT)
Event Details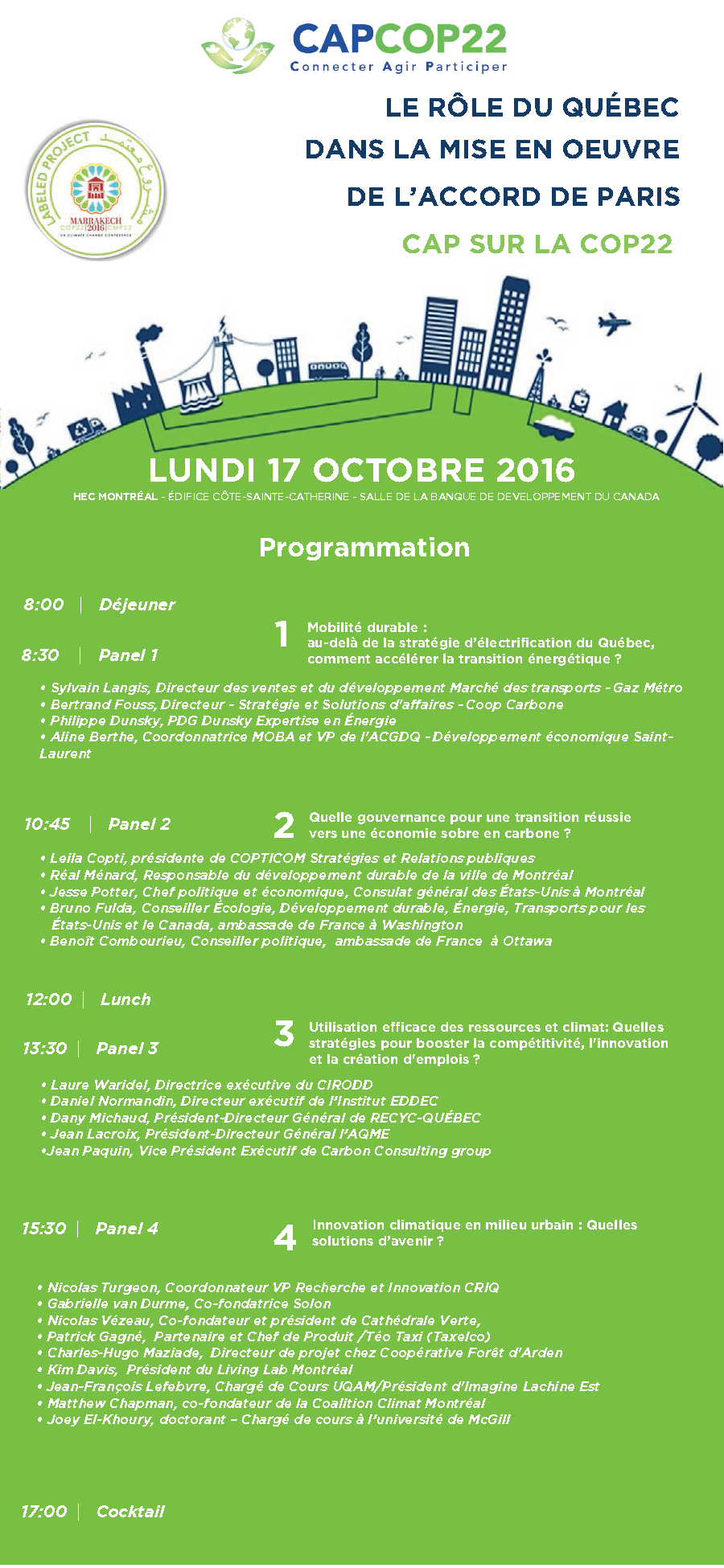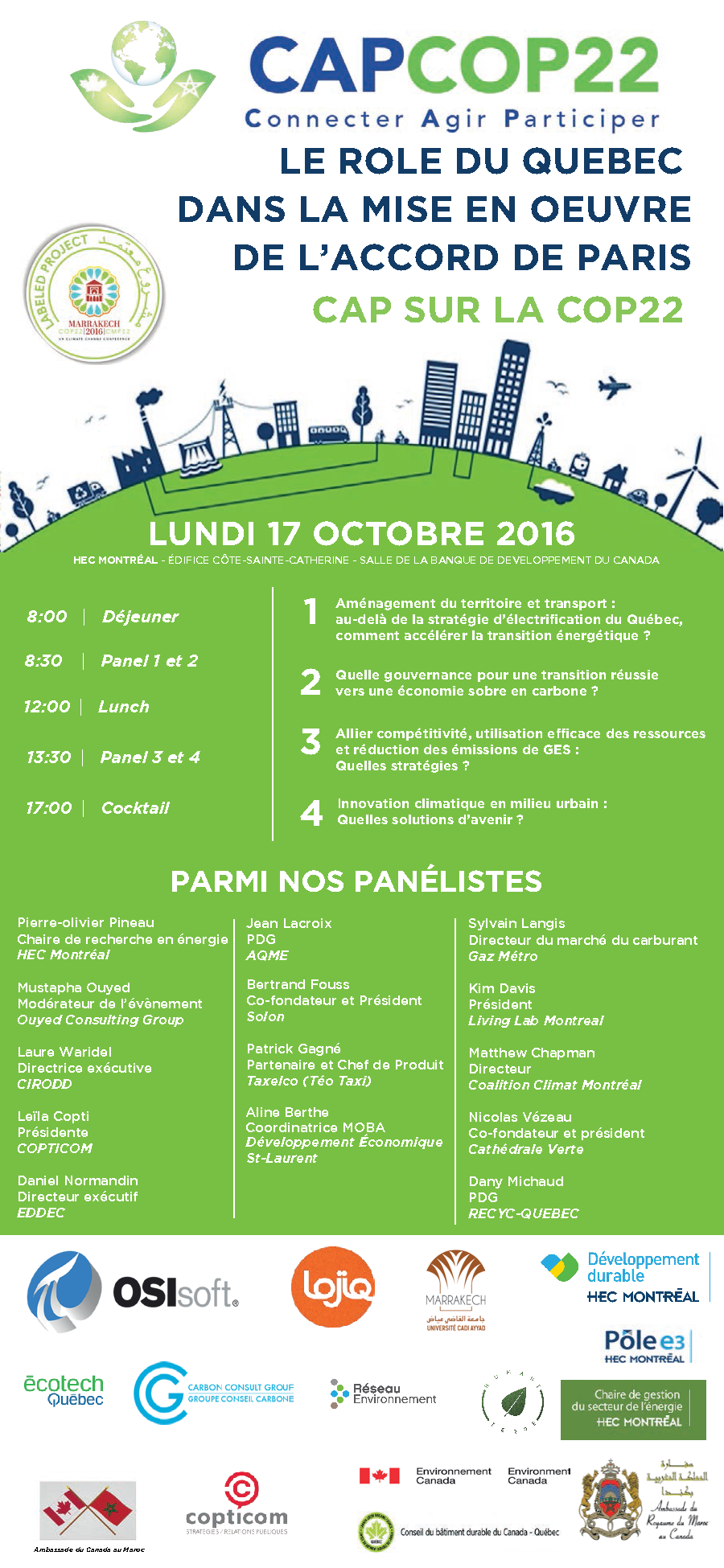 ***
CAP COP22 vous convie à son colloque
Le rôle du Québec dans la mise en oeuvre de l'Accord de Paris,
CAP sur la COP 22!
le 17 octobre prochain, à HEC Montréal
Cette journée sera l'occasion d'en apprendre davantage sur les défis économiques, sociaux, techniques et financiers du Québec pour atteindre ses objectifs climatiques. Elle permettra également de "prendre le pouls" du Québec avant la COP 22, prochaine Conférence des Parties qui se tiendra à Marrakech, du 7 au 18 novembre prochain. Celle-ci sera décisive à l'égard de l'Accord de Paris car elle permettra de définir des outils et mécanismes d'opérationnalisation qui assureront le respect des engagements des pays ayant ratifié l'accord, dont le Canada.
Ce colloque aura également pour but de rallier les acteurs de demain autour d'un dîner et d'un cocktail réseautage.
Les invités à cette grande journée du 17 octobre interviendront autour de ces questions :
Quels sont les défis à la fois économiques, sociaux, techniques et financiers que le Québec souhaite relever dans le cadre de ses objectifs climatiques? 
Quels sont les outils d'opérationnalisation que le Québec va mettre en place?
Quelles solutions pluridimensionnelles sont à disposition des acteurs du Québec? A quelles conditions le Québec pourra-t-il  renforcer son leadership climatique?
Les invités
Nous aurons le plaisir d'avoir parmi nous des invités de marque dont : 
Mustapha Ouyed, modérateur de l'évènement – Pierre-Olivier Pineau, Directeur de la Chaire de recherche en énergie de HEC Montréal – Sylvain Langis, Directeur du marché du carburant chez Gaz Métro – Laure Waridel, Directrice exécutive du CIRODD – Daniel Normandin, Directeur exécutif de l'EDDEC – Dany Michaud, PDG de RECYC-QUÉBEC – Jean Lacroix, PDG de l'AQME – Bertrand Fouss, Co-fondateur et Président de Solon – Nicolas Vézeau, Co-fondateur et président de Cathédrale Verte – Patrick Gagné, Partenaire et Chef de produit de Taxelco/Téo Taxi – Kim Davis, Président de Living Lab Montreal – Matthew Chapman, Directeur de Coalition Climat Montréal – Leïla Copti, Présidente de COPTICOM – Nicolas Eyssallenne et Bachir Mouhyi, Co-directeurs de CAP COP 22
*** Des invités en attente de confirmation vous seront communiqués ultérieurement ***
Le programme
8H00 | ACCUEIL, INSCRIPTION, PETIT DÉJEUNER
8H30 | MOT D'OUVERTURE
9H00 – AMÉNAGEMENT DU TERRITOIRE ET TRANSPORT : AU-DELÀ DE LA STRATÉGIE D'ÉLECTRIFICATION DU QUÉBEC, COMMENT ACCÉLERER LA TRANSITION ÉNERGETIQUE?
10H15 | PAUSE- CAFÉ
10H30 – QUELLE GOUVERNANCE POUR UNE TRANSITION RÉUSSIE VERS UNE ÉCONOMIE SOBRE EN CARBONE?
12H00 | REPAS – RÉSEAUTAGE
13H30 – ALLIER COMPÉTITIVITÉ, UTILSATION EFFICACE DES RESSOURCES ET RÉDUCTION DES ÉMISSIONS DE GES : QUELLES STRATÉGIES? QUELLES APPROCHES INTÉGRÉES?
15H15 | PAUSE-CAFÉ
15H30 – INNOVATION CLIMATIQUE EN MILIEU URBAIN : QUELLES SOLUTIONS D'AVENIR?  
 17H00 | COCKTAIL RESÉAUTAGE
*** Billets limités incluant l'accès à toutes les conférences, le déjeuner, le dîner et le cocktail. Prix spécial pour les étudiants sur présentation de la carte ***
On vous attend en grand nombre!
Les participants acceptent, en étant sur les lieux, que des photos et/ou vidéos soient pris et utilisés sans aucune compensation pour la promotion des activités  de CAP COP22 et de Cap développement durable.
When & Where

HEC Montréal
3000 Chemin de la Côte-Sainte-Catherine
SALLE: BANQUE DE DÉVELOPPEMENT DU CANADA
Montréal, QC H3T 2A7
Canada

Monday, 17 October 2016 from 8:00 AM to 8:00 PM (EDT)
Add to my calendar
Organizer
CAP COP22 sensibilise et regroupe les jeunes acteurs et futurs décideurs qui contribuent à la création du monde durable de demain. L'objectif principal de cette initiative est de constituer une délégation participant à la conférence de Marrakech.
La délégation offre aux jeunes professionnels un cadre privilégié pour apprendre, partager et s'exprimer sur les enjeux liés aux changements climatiques. Ils auront ainsi l'opportunité d'échanger sur leurs projets innovants ayant un impact positif sur les changements climatiques.