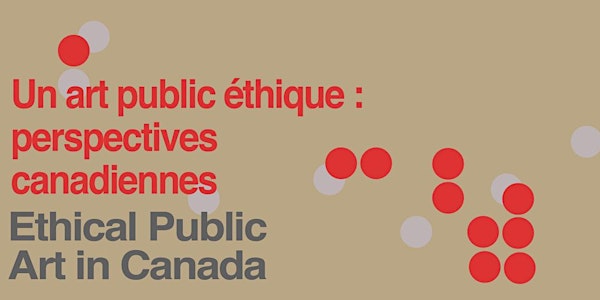 Colloque Un art publique éthique / Colloquium Ethical Public Art
Colloque Un art public éthique au Canada (Août 24-27, 2022) / Colloquium Ethical Public Art in Canada, (August 24th-27th, 2022)
When and where
Location
Verticale - centre d'artistes 397 Boulevard des Prairies O ##412 Laval, QC H7N 2W6 Canada
About this event
Le colloque « Un art public éthique : perspectives canadiennes » aura lieu à Montréal, Granby, et Laval du 24 au 27 août 2022. Accueilli par l'Université de Montréal, Concordia University, DARE-DARE, Verticale et le 3e impérial, cet événement vise à renforcer l'analyse théorique de la pratique de l'art public dans le pays en examinant sa nature, ses temporalités, ses territoires, ses matériaux, ses lieux, ses mécanismes, ses acteurs et ses publics. Ce colloque s'appuie sur le nombre toujours croissant d'initiatives qui, au cours de la dernière décennie seulement, se sont penchées sur le passé, le présent et l'avenir de l'art public sur le territoire que nous connaissons aujourd'hui comme le Canada.***Si vous avez besoin de mesures d'adaptation pour répondre à des besoins d'accessibilité spécifiques tels que, mais non limités à, la mobilité, le langage des signes, l'audition, parmi d'autres, veuillez communiquer avec les organisateurs par le biais de https://www.facebook.com/EthicalPublicArtinCanada/ après avoir effectué vos réservations.***.
The colloquium "Ethical Public Art in Canada" will take place in Montreal, Granby and Laval on August 24th-27th, 2022. Hosted by the Université de Montréal, Concordia University, DARE-DARE, Verticale and 3e impérial, this event aims to strengthen the theoretical analysis of the practice of public art in the country by examining its nature, temporalities, territories, materials, places, mechanisms, actors, and publics. This conference builds upon the ever-increasing number of initiatives that, in the last decade alone, have addressed the past, present, and future of public art on the land we currently known as Canada. ***If you require any accommodation for specific accessibility needs like, but not limited to, mobility, sign language, hearing, and others, please communicate with the organizers through https://www.facebook.com/EthicalPublicArtinCanada/ after placing your reservations.***
JOUR 4 | SAMEDI 27 AOÛT
DAY 4 | SATURDAY, AUGUST 27
Verticale & Cartier metro station, Laval
9:00-10:00
Cartier metro station (entrée principale | main entrance)
Exploration MONA
(Acheter un billet aller-retour aussitôt arrivé·e à cette station.
Buy a round-trip ticket as soon as you arrive at this station)
10:00 Bus 24, Métro Cartier Quai: 8
Get off at | Descendre à Cartier & Dandurant & Walk | Marcher 5 minutes
>Verticale<
397 Boulevard des Prairies O, #412, Laval, QC H7N 2W6
10:30 -12:00
Mots de bienvenue | Opening remarks (Verticale)
Natalie Doonan (Université de Montréal)
– Environmental Attunement as Ethical Engagement
Josianne Poirier (Commissaire indépendante | Independent Curator & Université de Montréal)
– Arpenter l'archipel : les enjeux éthiques d'un cycle de résidences de création in situ aux Iles-de-la-Madeleine
Marie-Claude De Souza (Artiste | Artist & candidate au DESS en arts, création et technologies, Université de Montréal).
– Topoésie
12:00-13:00 Pause dîner & Lunch Break
13:00-14:45
Table-ronde | Round-Table
Un art public éthique : centres d'artistes au Québec
Ethical Public Art: Artist-run Centers in Quebec
– Verticale, DARE-DARE & 3e impérial
Modérateur·rices | Moderators –
Analays Alvarez & Laurent Vernet (Université de Montréal)
14:45-15:00 Pause café | Coffee Break
15:00-16:00
Séance plénière | Plenary Workshop
16:00-18:00
Lancement de livres d'artistes | Artists' Books Launch
L'île (Anne-Marie Ouellet) & Paysages éphémères (Janie Julien-Fort)
*Vin d'honneur*