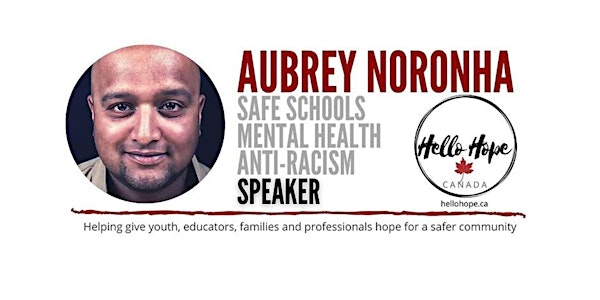 Colour Blind? with Aubrey Noronha
Colour Blind? Why Being "Not Racist" is Not Enough
Date and time
Tue, Feb 7, 2023 7:00 PM - 8:30 PM EST
Location
St. Paul High School 2675 Draper Avenue Ottawa, ON K2H 7A1 Canada
About this event
​This presentation is brought to you by the following OCSB School Councils:
St. Mother Theresa High School
St. Emily
St. Joseph High School
St. Cecilia
St. Patrick Elementary
Monsignor Paul Baxter
St. Luke Nepean
St. Pius
Immaculata
St. Andrew School
It's not just OK to discuss topics related to skin colour but it is now more important than ever that we come together to discuss them. It will not always be pretty but it is worth it!
LEARNING OUTCOMES INCLUDE:
A youth-friendly primer on conscious and unconscious bias, the evolution of the word "racism" and what "systemic" really means:An awareness that we all have "skin in the game" of identity politics figuratively and quite literally
A call to and practical steps for transforming one's self from being a "non-racist" to an "anti-racist"
Want to join us but looking for something to entertain the kiddos during the event? We will be offering Child Minding. Planning is still in the works but we will have entertainment and school safe snacks for your children to enjoy. Let us know if you require Child Minding so we can best plan for the evening.
The Parents Reaching Out (PRO) Grant program provides funding to district school boards and school authorities to lead projects with a focus on the identification and removal of barriers that prevent parents/guardians and families from participating and engaging fully in their children's learning.
Projects require to demonstrate a commitment to respecting the role of parents in students' educational experiences by working with parents or seeking parent input on how schools can:
Provide a safe and welcoming school environment;
Maintain open communication with teachers;
Respect parents as valued partners within the education system in relation to decisions
about their child's education; and,
Parents are informed about the content of the Ontario Curriculum Guidelines.
Changes to the program were made for the 2019-20 school year from an application-based funding model to an allocation-based grant provided to each district school board and school authority. This funding will continue to help district school boards and school authorities address local needs and priorities connected to enhancing parent engagement.
About the organizer
The Catholic School Parents' Association (CSPA) is an independent volunteer parent organization that represents parents and elected school council members of the Ottawa Catholic School Board. We support school councils in their efforts to engage the parent community of each school. By partnering with administrative staff at the Ottawa Catholic School Board, we are able to keep school councils and families informed about educational issues affecting their school community.