Actions and Detail Panel
Colour Me Green 2017
Sun, 6 August 2017, 10:00 AM – 2:00 PM MDT
Description

WELCOME!
To the 4-H Alberta centennial Colour Me Green 2017! Be one of 1000 participants on Aug. 6, 2017 aged 7 to 99 helping us paint the original 4-H Alberta town, Olds, GREEN with three separate start times (under 18 years old MUST complete a Minor Waiver). Bring your family, friends, co-workers, 4-H club ... just not your pets! Walk, run, dance, or wheelchair around the circuit - just finish your five kilometres strong! This event is not timed because there isn't a unit to measure how much FUN you are having!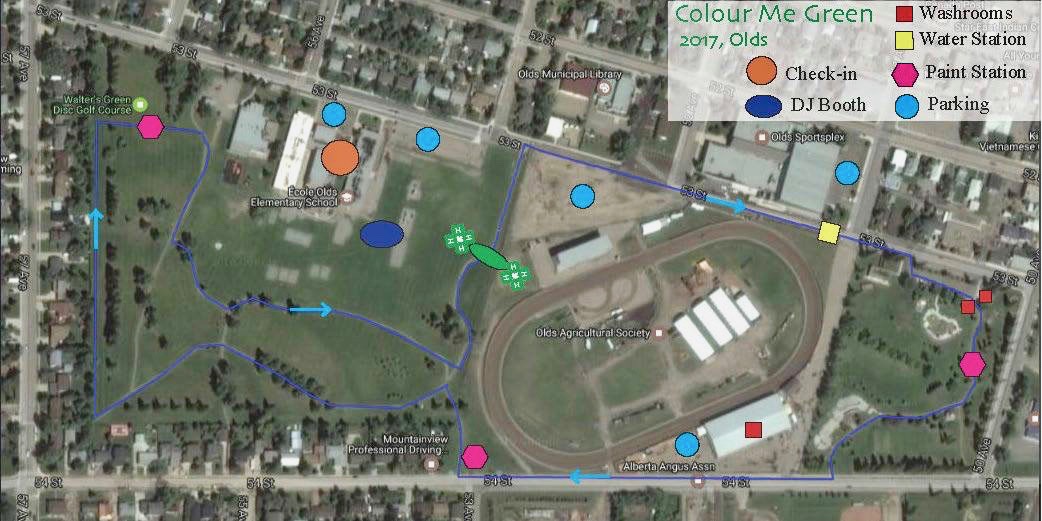 What 'Cha Get:
T-shirt with our logo (specify size by July 25 or receive a large), costume contest prizes, temporary tattoos, sunglasses, live DJ / music, 1 POWDER STATION and 3 PAINT STATIONS and t-shirt decoration stations. A water station is half-way point on the route, plus shower-house and washroom access. Photographers and videographers will capture every AWESOME moment of chaos.
Connect With Us!
Email: cmg4hab@gmail.com
Twitter, Facebook & Instagram: @cmg4hab
PARTICIPANT NEWSLETTERS:
Mandatory subscription. Learn about the costume contest, parking information, t-shirt size registration, minor waiver forms & tips 'n' tricks. Keep an eye on the email you used to register for the event.
Subscribe here: http://eepurl.com/chDxk9