COLOURFUL MOON: Concert & Performance in Support of Autism

Friday, 13 October 2017 from 7:00 PM to 10:00 PM (EDT)
Event Details
Join us on Oct 13th for a special evening that will bring together the diverse and unique individual talents that make our community colourful, vibrant and beautiful.  Internationally recognized stars and performers share the stage with SAAAC Autism Centre's amazing children and young adults.  Come with us on this magical journey of dance, music, song, poetry and art as we break barriers and raise awareness for Autism. 
Headliner Supersinger Jessica Jude will be accompanied by acclaimed soprano Karen Usha Gray featuring Ravi Niles, Iyarkai Band, Priyah Ratnakumar, Zillas Dance Crew, Irudaya Dance Company, Jennifer Cuellar and a very special 'coming out of retirement' performance by Geetha Moorthy. 
All proceeds will be directed to the building of SAAAC's new 11,000 sq ft state of the art autism facility located at 705 Progress Avenue in Scarborough. 
Geetha's Journey
After a 20-year absence Geetha Moorthy will return to the stage for one night only.  Geetha's' journey began early in life, becoming a renowned Indian Classical dancer. A trained dancer in the classical dance genres of Bharathanatyam and Kuchipudi, Geetha garnered recognition and acclaim in her native Sri Lanka. Like many, war forced her to leave her homeland and relocate to Canada, where she transformed from performer to teacher. In 1985, Geetha founded the Narthanalaya, the Centre for South Asian Dances where she trained hundreds of students in and around the GTA. 
It was at Narthanalaya that Geetha first came across some students who were diagnosed with autism. Touched by these students' commitment to dance she founded the South Asian Autism Awareness Centre (SAAAC) in 2008, where dance was one of the many quality programs offered to families living with autism - a neurodevelopmental disorder that every year impacts 1 in 68 Canadians.
On Oct 13, Geetha Moorthy will return to the stage after a 20-year absence to help raise funds for autism services provided by SAAAC.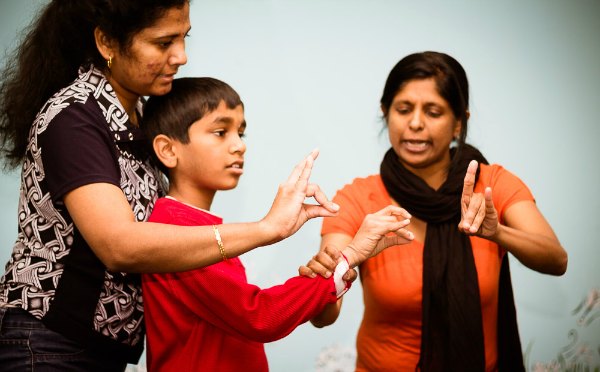 Venue map / Chinese Cultural Centre Of Greater Toronto
71509975
Balcony
3
#ff33aa
71509976
General
2
#ff8000
When & Where

Chinese Cultural Centre Of Greater Toronto
5183 Sheppard Avenue East
Toronto, ON M1B 5Z5
Canada

Friday, 13 October 2017 from 7:00 PM to 10:00 PM (EDT)
Add to my calendar
Organizer
The SAAAC Autism Centre is a registered charity serves children, youth, and adults on the autism spectrum, as well as the family as a whole. As our organization has expanded over the past 10 years, our mission has been refined to serve culturally and linguistically diverse families who experience challenges accessing autism support due to language barriers, financial problems, cultural stigma, and lack of support networks. Currently, our centre serves 250 families, operates a wide variety of programs and services and has a volunteer base of 160 highly engaged volunteers.