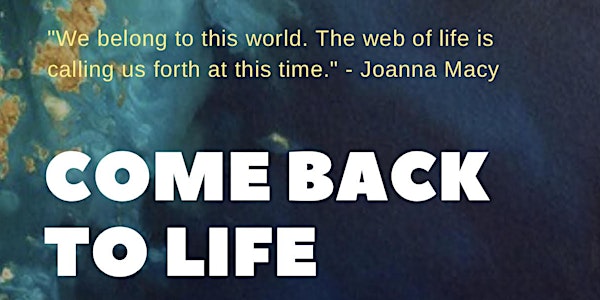 Come Back to Life
A bi-weekly gathering to explore our love for the world through the spiral of the Work that Reconnects
Refund Policy
Contact the organizer to request a refund.
Eventbrite's fee is nonrefundable.
About this event
We invite you to join together with others who carry a deep love for the world.
Spring is around the corner, a season of renewal and new life emerging from the dark cold of winter. How do we emerge from a long season of change, loss, challenge and uncertainty? How do we honour the dark and step into renewal? How do we enter the next cycle of life?
In this bi-weekly series, we co-create a shared space to honour what we love as well as our responses to the suffering caused by the pandemic, systemic injustice, climate change, political instability, runaway capitalism and other crises of our times. We also draw on our individual and collective care, creativity, willingness to explore, intuition, relational wisdom and capacities. We orient our attention to what is alive for us in these times and what we want to continue to cultivate.
Over four sessions we will move through the spiral of the Work that Reconnects, beginning with gratitude to ground us into the miracle of being alive in this complex world, moving into honouring our pain for the world which we feel through our deep interconnection to the web of life; then we explore seeing with new eyes, embodying our mutual belonging with all that is, and finally we go forth with presence, energy and purpose.
Through experiential activities, creative expression and shared support we will explore what opens our hearts, what concerns us about the state of the world, what evokes our love and care for each other and the earth, and what nourishes and resources us for the seasons ahead.
The facilitators, Kate Burns and Kirsten Hunter, acknowledge that we are hosting this online event from the traditional, ancestral and unceded territories of Hul'qumi'num speaking peoples of the Snuneymuxw, Stz'uminus and Snaw'naw'as peoples. A percentage of the proceeds of this event will be donated to an Indigenous-led organization, as determined collectively by the participants. Indigenous people are invited to attend at no financial cost.
For more information email islandspiraljourneys@gmail.com
Dates: Bi-weekly saturdays
February 6 & 20, March 6 & 20(Note: tickets show for Feb 6th only, but your ticket pays for access to all 4 sessions)
"The most radical thing any of us can do at this time is to be fully present to what is happening in the world" – Joanna Macy
Facilitator Bios:
Kate Burns: Kate is a counsellor, workshop facilitator and mentor to adult learners. With 35 years of experience in a wide range of social work, social action and nature-valuing endeavors she brings an inclusive and liberatory approach to the Work that Reconnects. Kate is committed to the transformational powers held within life-giving relationships – with ourselves, others (human and non-human) and the earth. It is in our joining together we create opportunities to grow the collective courage we need to face these uncertain times, and explore new ways of seeing and find new ways to go forth.
Kirsten (Putu) Hunter A constant question compels Kirsten forward: What will I say to my children and grandchildren when they ask 'how did I live with what I knew about the great ecological and socio-political instability of our times?'. Kirsten lives on a regenerative homestead with her family where she gleefully harvests stinging nettle in the spring, cultivates plant medicines in the summer, sings to the returning salmon in the fall, and feels all the feels in winter. As a profession, she works in the field of disaster-risk-reduction - and as a passion she co-facilitates circles for the healing of our world.