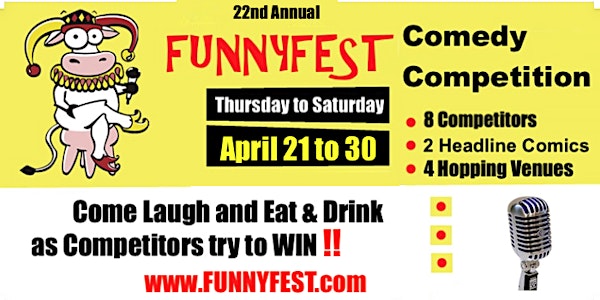 Comedy Competition - Competitors & 2 headliners per show - 22nd Annual YYC
COMEDY COMPETITION - Comedians Compete bookended by 2 headline Comics to try WIN $5000 in cash / prizes and a spot in FunnyFest COMEDY Fest.
About this event
22nd Annual FUNNYFEST "Comedy Competition" and UKRAINE Humanitarian Aid FUNDRAISER
On now until April 30, 2022 - 8 Shows:
7 PM - Wednesday, APRIL 27 - Bonasera Pub SE, 3525 - 26 Avenue SE, Calgary T2B 2M9
7 pm - Thursday, APRIL 28 - Dog & Duck Pub
8 pm - Friday, APRIL 29 - Dog & Duck Pub
6 pm - Sat. APRIL 30 - CHAMPIONSHIP FINAL -CLARION HOTEL
PRESENTED BY: Your VOLUNTEER produced YYC Calgary 22nd Annual FunnyFest COMEDY Festival Society
Laugh as comedians compete to try to be one of the Funniest to be selected to perform in the 22nd Annual FunnyFest Calgary Comedy Festival and win $5000 in cash and prizes at 4 hopping venues. Plus the show is bookended by HEADLINE COMEDIANS to round out the BIG laughs! Plus ALL the events are a FUNDRAISER, as $2 to $10 per show ticket and beer purchase is being DONATED to Ukrainian Humanitarian Aid!
FEATURING:
+ "Festival Favourite" Stand Up Comics and special guests
+ Up to 8 Comedians per 100 minute show!
+ Plenty of good times and great FOOD & BEVERAGES are offered in these casual venue environments
+ Corporate Packages Galore
+ Laugh & Stay HOTEL Packages - Includes 3 star hotel room and 4 tickets to the show!
+ Prizes
+ Free overnight parking
+ Cool Audience Contests toooooooooo!
________________
Tickets: $20 to $29 per ticket or a nickel a laugh; Final $29 per ticket
Helpful information: A. Doors open 1 hour before show time; B. Please arrive a minimum of 30 minutes before showtime so you have ample time to purchase tasty beverages and delicious food; C. Your seat could be forfeited 10 minutes before showtime, as we need to get ready for the show; D. Many Prizes to be won and free overnight parking.
__________________
More info and buy tickets: https://funnyfest-comedy-competition-calgary-yyc-2022.eventbrite.ca