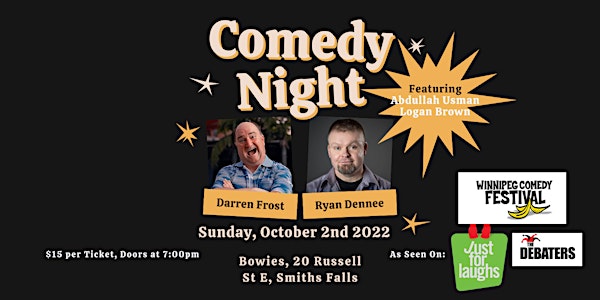 Comedy Night At Bowies Featuring Darren Frost!
Headliner Darren Frost with Host and MC Ryan Dennee in Smiths Falls! Featuring Abdullah Usman and Logan Brown
When and where
Location
Bowie's 20 Russell Street East Smiths Falls, ON K7A 1E8 Canada
Refund Policy
Contact the organizer to request a refund.
Eventbrite's fee is nonrefundable.
About this event
Comedy Night at Bowies returns with a next level lineup! First show of the Pumpkin Spice season brings the dark lunacy of headliner Darren Frost to Smiths Falls! Along with veteran comedian Ryan Dennee hosting! Featuring Logan Brown and Abdullah Usman! Sunday may be the lords day, but you'll want to tell him to take the night off for this show!
Darren Frost - Darren thrives on hyper-driving criticisms, dark revelation and lunacy. His ability to command the undivided attention of an audience is remarkable. He is currently touring celebrating the release of his 6th official comedy release RankNVile recorded live in October 2018. He is the only comedian in Canada to independently release four full length standup comedy DVD's and 2 CD's, all of which are available in his comedy box set The Darkness Within: 25 hours of Uncensored Comedy .
Darren was nominated twice at the 2014 Canadian Comedy Awards Including Best Male Standup. He has been mentioned four times in the top ten comedy moments of the year by Toronto entertainment magazine Now. Multiple appearances at various comedy festivals across Canada including Just For Laughs and the Winnipeg Comedy Festival. Darren has been awarded the prestigious Kari award for Best Performance in a Commercial in Canada.
Most recently he appeared in the 2018 Halloween special of Murdoch Mysteries and worked with Nicolas Cage in the movie Pay The Ghost. Darren was also part of the cast of the hit CBC show Mr. D playing the new addition of angry French teacher Norm. He also had appearances on Lost Girl, Strombo and the CBC Debaters. For three years he was the host of the popular weekly Sirius XM radio show Anything Goes which was nominated two years in a row for a Canadian Comedy Award.
Numerous movie/television appearances to his credit including Hairspray with John Travolta, the Ethan Hawke film Assault on Precinct 13, the Drew Barrymore/Jimmy Fallon film Fever Pitch, a role in the Michael Douglas feature Don't Say A Word, principle role in the Kojak series starring Ving Rhames.
Darren lends his voices to a many cartoons including: Total DramaRama, Ranger Rob, WishFart, Total Drama Island Ridonculous Race, Looped, Camp LakeBottom, Chuck and Friends, BeyBlade, Bakughan Brawlers, Stoked, Sixteen, NBC Discovery Kids Time Warp Trio, PBS's Timothy Goes to School, Showtime's Gahan Wilson's The Kid, and Fox's Medabots. He also has been featured in many memorable national commercials currently the Cash For Life Fairy, and old favorites Microsoft's Hermes Messenger of the Gods, and Listerine's Action Hero Bottle.
Not of this earth or simply full of fudge: you decide. Direct from Brantford, Ontario, he'll have you convicted and healed all at once.
"It is funny as hell. It is like nothing you have ever seen before, ever. At some point in the YouTube bit, Frost says that when he dies he wants people to write the truth on his wall. I will do it now: He is the funniest in your face comic you will ever see." Theseriouscomedysite.com
XXX RATED!
Ryan Dennee - Born and raised in Kingston Ontario, Ryan began his comedy career in 2007 just shy of his 30th birthday.
A natural storyteller, Ryan combines real life experiences with his powerful ability to go off the cuff and work the crowd, creating a hilarious night of entertainment enjoyed by all ages. Dennee has the uncanny ability to play to any age group, from high school students to seniors and everyone in between, Ryans likability on stage is inimitable.
An avid supporter of Canadas military, Ryan has performed at nearly a dozen different armed forces bases across the country. Ryan has been featured on XM Radio multiple times. Hes performed at JFL 42, The Cottage Country Comedy Festival, the Waterloo Comedy Festival, and is the producer of Kingstons Ice Cold Comedy Festival. Ryan has been seen on several television commercials, and his comedy is routinely heard on K-Rock 105.7FM.
Dennee has been described by several veteran comedians as a comic flying under the radar, and a comedic force to watch out for.