Description
We are excited to host a Comedy Night that offers humorous insights into life on the autism spectrum. Come have some laughs, learn, and support a good cause!
Our headliner is Adam Schwartz, a stand-up comedian, self-advocate and published author. Adam is bringing to the evening his NEW show, which takes a hilarious look at living on the autism spectrum, and which he created based on his everyday life experiences. It will make you laugh hard, but it will also make you walk away with a little more insight into what life is like with autism.

A local performer, Morgan Nadeau, who is highly respected and sought after in the local clown community, will be joining the Comedy Night as well.
Entry by donation - the amount you pay is up to you.
This event is open to 180 entrants on a "first-come, first-served" basis. Please register if you plan on attending. All ages welcome - this event is family friendly.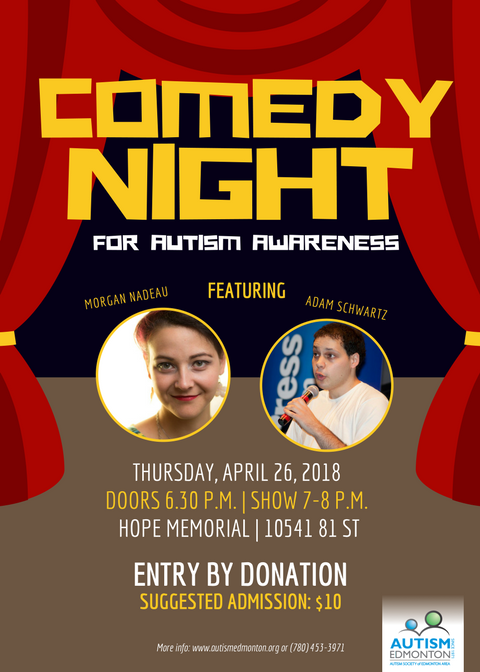 ---
About the performers:
Adam Schwartz is a Winnipeg-based stand-up comedian, autism advocate and published author. He feels that autism gives him a unique perspective onto the world. He has appeared at the Winnipeg Comedy Festival four times, has been a keynote speaker at one of Alberta's innovation festivals and has had a hit Fringe show called "Aspergers: A tale of a social misfit" which he has performed across Canada. Two books that he has published are "I have Aspergers so I'm better than you. Shh... don't tell mom." and "Ana and the substitute teacher."
Morgan Nadeau has been involved in the Edmonton Theatre community since 2007 and has been clowning since 2012. She is a co-creator and founder of Fool Spectrum Theatre and has run the E-Town Clown Cabaret since September, 2014. She is a trained Pochinko Clown, both in practice and as an instructor. Morgan clowns and roves at events and festivals and has been a part of Edmonton's International Street Performer Festival, The St. Albert International Children's Festival and the International Edmonton Fringe Theatre Festival, to name a few.
---
Special thank you goes to LE CHÂTEAU for sponsoring this event.