Comedy Showcase of Canada's Best Stand Up Comedians @ The Muddy York Brewing Co
About this event
SHOW starts at 7:30pm, please arrive by 7pm to get your seats & drinks before the show begins.
The Muddy York Presents a professional line up of stand up comedians as seen on Just for Laughs (JFL), Comedy Central, TikTok, Sirius XM, Kevin Hart's LOL Network and more.
Due to covid precautions tickets will be sold by the picnic table, at $50 per table for 2-6 people)
This months line up:
TIM BLAIR (JFL, NBC's Breakout Festival, TallBoyz on CBC)
CHE DURENA (JFL, Sirius XM Top Comic, Comedy Central, +3M Followers on TikTok)
OLIVIA STADLER (writer for Letterkenny, JFL42, Breakout Comic of the Year)
JACOB BALSHIN (CBC's LOL, Sirius XM, Toronto's Best Up & Coming Comedian)
HEADLINER - REBECCA REEDS
Rebecca Reeds is a stand-up comedian and writer from small-town Ontario. She began performing in Ottawa and has quickly become a comedian to watch out for. She's performed in the United Kingdom, the United States, and all over Canada. She has opened for several distinguished comedians like Beth Stelling, Jim Norton and Tom Green.
Rebecca has appeared on CBC, SiriusXM, and CBC Comedy where her clip was viewed more than 2 million times. In addition to her appearances on radio and television, Rebecca has performed at several festivals across the country including New Faces Just For Laughs, Toronto's JFL42, Winnipeg Comedy Festival, NXNE, and the Cottage Country Comedy Festival.
In October 2018, The Villain Was Right premiered on the From Superheroes Podcast Network. Along with co-host comedian Craig Fay, Rebecca views movies and TV shows from the villain's perspective and dares to ask if they were all that bad. The VWR podcast won Outstanding Debut for a Series at the Canadian Podcast Awards.
And your host ANDREW PACKER (JFL Northwest, JFL 42, Edinburgh Fringe Festival)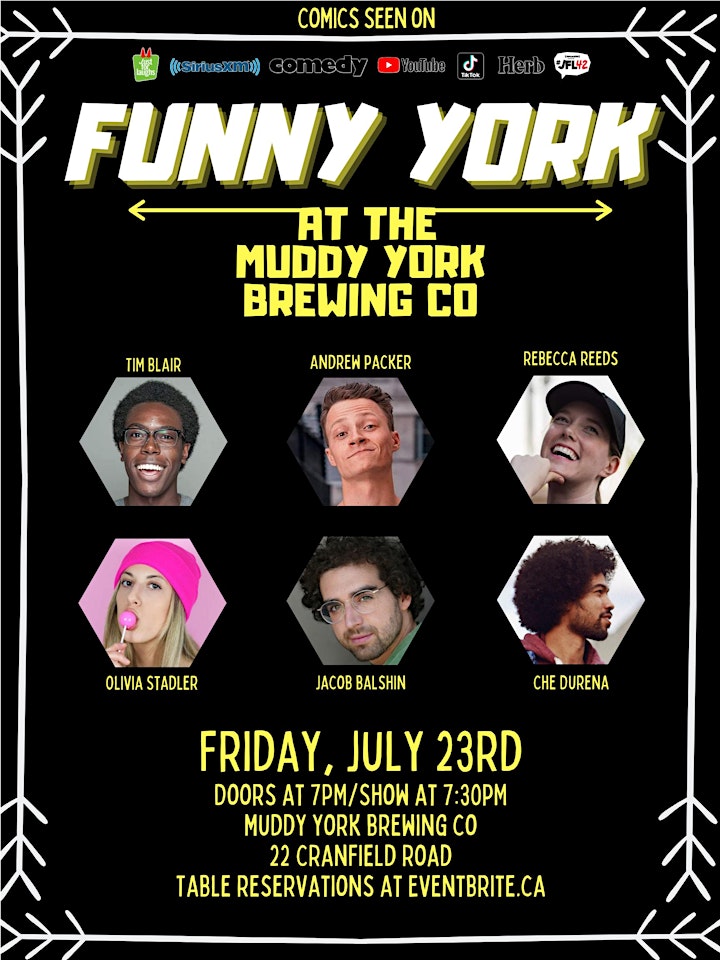 Organizer of Comedy Night - Funny York @ the Muddy York
JNT Comedy Productions has had a hand in producing 1000s of comedy shows from coast to coast and internationally. The JNT Comedy Tour features three comedians that are all quickly gaining success in comedy in their own rights and they come together annually to tour throughout Canada; putting on high quality comedy shows in a town near you!