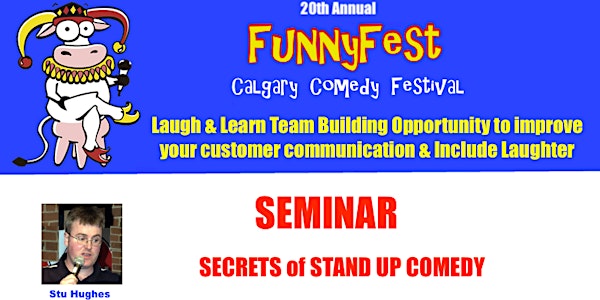 Comedy Seminar - "Secrets of Stand Up Comedy" - Laugh & Learn Team Building
Event Information
Location
Calgary
Your venu or a FunnyFest venue
Calgary, AB t2p 1b7
Canada
Refund policy
Refunds up to 7 days before event
Eventbrite's fee is nonrefundable.
Team building "LAUGH & LEARN" Seminars & Workshops delivered by the 20th Annual FunnyFest Comedy Experts --- Learn 30 to 200 Techniques now.
About this event
Team building "LAUGH & LEARN" Seminars & Workshops from the FunnyFest Comedy Experts
The interactive and often funny Seminar can be delivered to 10 to 200 persons by video conferencing OR at your venue or OFFICE or a FunnyFest Comedy's venue.
Applied corporate public speaking training from FunnyFest Comedy will create results! Better Communicators = Better Business! Get the communication edge to win over your audience and create more business. Why not have your team "Laugh & Learn"? With over 20 years of real-time experience, FunnyFest Comedy Experts stands up and delivers over 30 to 200 tailor written techniques (depending on length of seminar or workshop) within our training workshops / seminars.
More than $350 billion in training was spent throughout the world in 2015. Most businesses and individuals did not derive great value from this training. As communication to groups and individuals has become extremely important due to lack of face-time AND due to time restraints, specialized public speaking training has become essential. FunnyFest Comedy Experts deliver on this promise to help business communicators with proven practical & applied techniques and result driven training.
The "Secrets of Stand Up Comedy" seminar or workshops will guarantee your team is presenting succinctly, with the appropriate inclusion of original and tailor written (hilarious) laughter. The FunnyFest Comedy Experts Training will augment and complement a person's strong public speaking skills, and ensure they smoothly present laughter (where no laughter existed before), in their respective presentation. We teach a triumvirate of disciplines woven and delivered in a seamless workshop or seminar
FunnyFest Comedy Experts is the only organization that provides a 100% guaranteed of life-changing improvement in public speaking with laughter OR all fees will be refunded immediately. 
TEAM BUILDING Comedy Seminars & Workshops:  
Laughter in the Workplace;
Secrets of Stand Up Comedy to improve your public speaking within your presentations / speeches;
Comedy writing.
Seminars and workshops can be delivered to individuals or corporate groups at one or many partner venues or at your office or location you prefer.
You will also receive a matching dollar amount of FUNNY MONEY Gift Certificates to use at the 20th Annual FunnyFest Calgary Comedy Festival.
   INSTRUCTOR & Impresario:  STU HUGHES - Clever, over - the - top and fast paced! Ride the roller coaster of funny with Stu. Stu painstakingly wrote the 200 page stand up comedy workshop. He takes the best elements to offer the essentials in the "SECRETS of STAND UP COMEDY".
Which VENUE can we host the Seminar? ANY VENUE in Calgary (or within 150km from Calgary).
 FunnyFest COMEDY also offers FUNNY MONEY Gift Certificates @ 2 for the price of 1 & Corporate Comedy shows for any event.
FunnyFest COMEDY represents 50 PERFORMERS and offer adult comedy, musical comedy, comedy magic, ventriloquists, hypnotists & variety performers.
Check us out and see the value of your potential investment.
MORE INFO: Tickets AT FunnyFest.com
20th Annual FunnyFest Calgary Comedy Festival SocietyOffice: 403 228 7888
More info on FunnyFest Comedy seminars & shows: http://funnyfest.eventbrite.ca
 Buy Seminar: https://funnyfest-comedy-seminar-secrets-stand-up-comedy.eventbrite.ca 
 _____________________________________________________________________
Consider registering for the 6 class FUNNYFEST COMEDY WORKSHOP held weekly:
Learn from the pros through a hilarious and non-competitive Comedy Seminar! An opportunity to improve your comedy skills, your humour in the workplace skills and also become a stand up comic — FunnyFest would teach you the secrets of stand up comedy! This highly interactive, comedy workshop is perfect for any person interested in stand up comedy and/or applying proven stand up comedy techniques to your personal and business life. Stand up comedy is an art and science. Laughter is a gift and a useful tool. The FunnyFest workshop will make you think, work and improve. These universal principals you can apply in your business and everyday life. PLUS you will have NON-STOP fun while you learn!What are FunnyFest's credentials? FunnyFest has extensive expertise in this arena. FunnyFest Calgary Comedy Festival is Western Canada's largest comedy event with over 1900 comedy events produced. FunnyFest has developed over 30 professional stand up comics.If you elect to purchase the Stand Up Comedy Workshop you will receive a $100 off discount. The workshop is taught by professional stand up comics that have performed in at least 1000 shows each.Investment includes:  All materials, In class video, $100 tickets to the Calgary Comedy Festival, big laughs and a chance to compete in the 20th Annual FUNNYFEST Comedy Competition, industry referrals and Q & A.Don't wait another day! Sign up now! For further information please contact FunnyFest Calgary Comedy Festival Society at the links next to this posting or Hotline: (403) 228-7888. 
More info on FunnyFest Comedy seminars & shows: http://funnyfest.eventbrite.ca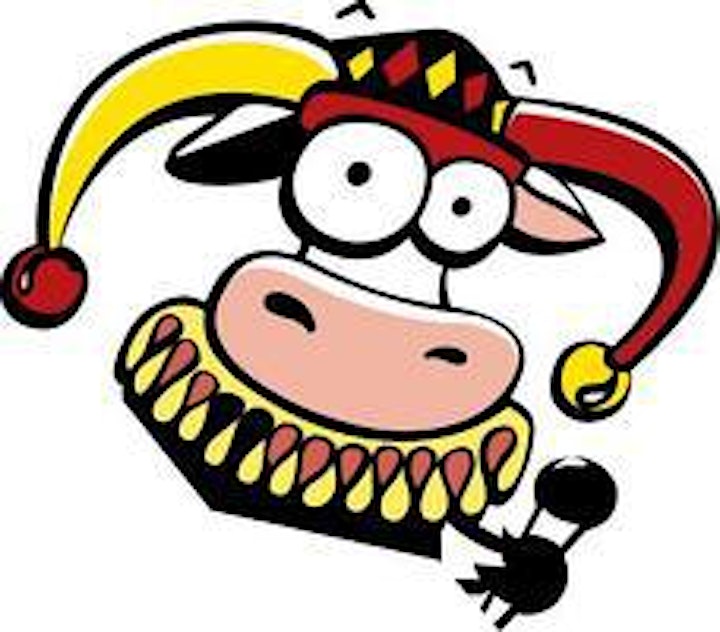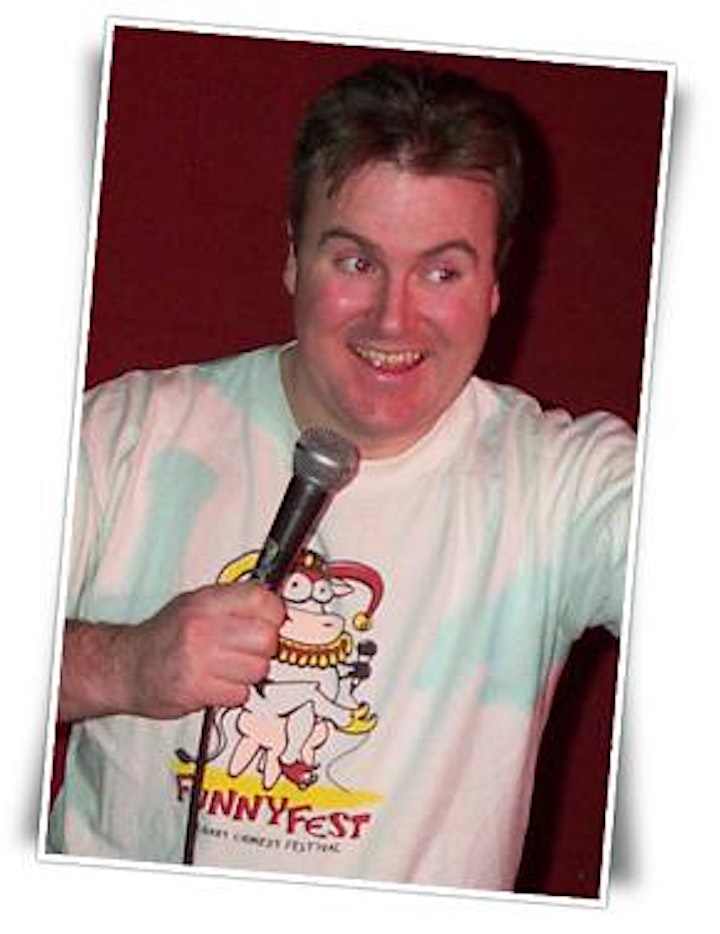 Location
Calgary
Your venu or a FunnyFest venue
Calgary, AB t2p 1b7
Canada
Refund policy
Refunds up to 7 days before event
Eventbrite's fee is nonrefundable.