Event Information
Refund Policy
Refunds up to 1 day before event
Eventbrite's fee is nonrefundable.
Jean Esther & Roxanne Dault
About this Event
Coming Home: Awakening through the Body, Mind & Heart
So often, we can get thrown by the changing circumstances in our lives, whether physical, emotional, or mental, whether personal or global. Regardless of whether we are new to practice or have years of meditation experience, a retreat can be a wonderful and profound period of recharging. Through restoring and reconnecting with our own goodness, wholeness, and vitality, an extended period of retreat returns us' home' over and over again to what is already there: our inherent Buddhanature.
Please join Jean and Roxanne for this online retreat. In this retreat, we will draw on the classical teachings of the 4 Foundations of Mindfulness and the Brahma Viharas( Divine Abodes) through a variety of guided sitting, walking and movement practices, dharma talks and shared dharma inquiry.
This retreat is open to experienced and beginning practitioners.
This retreat is taught in English.
Rentrer à la maison : L'éveil par le corps, l'esprit et le cœur
Nous sommes si souvent confrontés à des changements de circonstances dans notre vie, qu'ils soient physiques, émotionnels ou mentaux, personnels ou globaux. Que nous soyons novices ou que nous ayons des années d'expérience en matière de méditation, une retraite peut être une période merveilleuse et profonde de rechargement. On peut se reconnecter et se relier à notre propre bonté, notre intégrité et notre vitalité. Une période de retraite permet de nous ramèner "en soi" encore et encore à ce qui est déjà là : notre nature bouddhique inhérente.
Dans cette retraite, nous nous inspirerons des enseignements classiques des 4 fondements de la pleine conscience et des Brahma Viharas ("demeures divines") à travers une variété de pratiques guidées d'assise, de marche et de mouvement, de discussions sur le dharma et de recherche partagée sur le dharma.
Ouvert aux praticiens expérimentés et débutants.
Cette retraite est enseignée en anglais.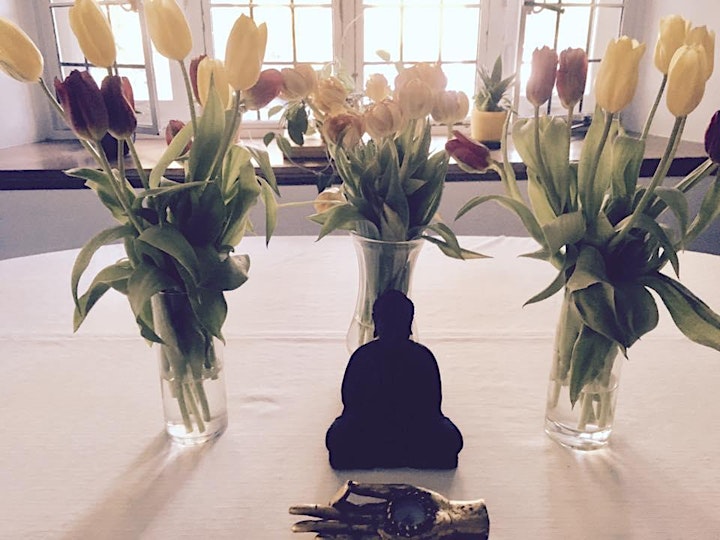 Practical Information
Friday, September 10 from 7 pm to 8:30 pm (Eastern Daylight Time - Canada)
Saturday, September 11 from 10 am to 8 pm (Eastern Daylight Time - Canada)
Sunday, September 12 from 10 am to 5 pm (Eastern Daylight Time - Canada)
Schedule: The daily schedule is below. Also, it is ok if you can't attend all of the retreat.
Where: On Zoom - the link will be sent 24 hours before the retreat begins.
How to prepare: Find a calm and comfortable place in your home. You will need a chair or a meditation cushion or bench. Scroll down to find more information!
Cost: Fees are on a sliding scale basis that allows participants to pay according to individual means. TNI is dedicated to offering affordable rates to all. Scholarships are also available. Please contact info@truenorthinsight.org. Everyone is welcome. Thank you for supporting TNI's longevity!
Teacher Dana: Our teachers are being hit hard by the cancellations of residential retreats across Canada and the US. Please note that the cost of the retreat covers only the administrative side of the retreat, not any payment to the teachers. Please consider giving a gift of Dana to the teachers. Following the 2,600-year-old Buddhist tradition, the teachings are considered priceless and are offered freely. At the end of the retreat you will be invited to offer dana, or donations, to the teachers.
Cancellation fees: Please let us know as soon as possible if you have to cancel. Refunds are available if you cancel more than 24 hours before the retreat begins.
We request that you arrive before the retreat begins. The Zoom space will open 15 minutes before the retreat starts.
Information: retreats@truenorthinsight.org
The teachers
Jean Esther MSW - Jean began training in meditation in 1975. Since 1982, she has trained in the Buddhist Theradavan tradition with renowned senior lay teachers as well as Burmese and Western Monastics. She has engaged in intensive teacher training in both Vipassana practice and non-dual awareness. Her teaching is informed by over 35 years of practice as a psychotherapist. Jean teaches at Insight Meditation Society in Barre, MA, Insight Meditation Center of Pioneer Valley in Western Ma, IBME teen retreats as well as various locations across the US and Canada.
Roxanne Dault - A dedicated practitioner of Vipassana (insight) meditation for more than 10 years, Roxanne has sat many long retreats in Canada, USA, India, Burma, Thailand and Nepal, spending more than two years in silence in the last decade. Roxanne has completed a two-year Buddhist Study and Practice Program and was part of a two-year Teaching Mentorship with Pascal Auclair and Daryl Lynn Ross. She is currently part of the four-year Insight Meditation Society (IMS) Teacher Training in the USA. Her teaching is influenced by her indigenous ancestry, her many travels and her experience in Somatic Experiencing® for the healing of stress and trauma. Roxanne wants to share her love for the Dharma so that we can all touch the freedom in every moment.
How to Prepare for Your Retreat
Meditation retreats are an invitation to create a space where you can take care of yourself and take time off from your daily life. With the goal of deepening inner calm, silence is an essential tool for this noble exploration of ourselves and allows us to listen deeply in this space of discovery.
For an online retreat at home, it's important to prepare a supportive environment in advance:
Find a clean, quiet place where you can be alone, in silence, without being disturbed.
Limit the use of electronic devices to just what you will need for the retreat (phone, laptop, or tablet). If possible, close all apps except for Zoom, deactivate different notifications.
We are aware that the current situation may require that you give attention to those you share your home with, and that you may need to be available for them. Do the best you can to offer yourself a supportive environment for your retreat. Your intention and your commitment are your best supports.
Meditation Supports
A chair, cushion or meditation bench for sitting meditation.
A blanket or shawl in case you get cold.
Water to stay hydrated during the day.
Daily Schedule
Friday, September 10
7 - 8:30 pm - Opening Session
Saturday, September 11
10 am -11:15 am - Session 1
1 - 2:15 pm - Session 2
4 - 5:30 pm - Session 3
7 - 8 pm - Session 4
Sunday, September 12
10 am -11:15 am - Session 1
1 - 2:30 pm - Session 2
3:30 - 5 pm - Session 3
Date and Time
Location
Refund Policy
Refunds up to 1 day before event
Eventbrite's fee is nonrefundable.