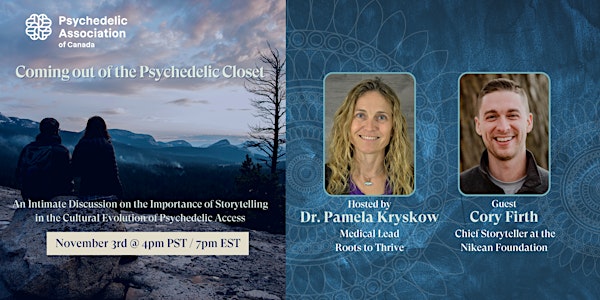 Coming out of the Psychedelic Closet
We're all powerful storytellers with unique tales to tell, but how impactful can one story be?
Refund Policy
Contact the organizer to request a refund.
Eventbrite's fee is nonrefundable.
About this event
We're all powerful storytellers with unique tales to tell, but how impactful can one story be?
Board member Dr. Pamela Kryskow sits down with Chief Storyteller and former PAC Executive Director, Cory Firth to discuss a new project that brings to light the significance of psychedelic storytelling at a time when it might be needed most.
Thursday November 3 2022
As a member of the Psychedelic Association of Canada, you get access to all of our events. Find the link to claim your free ticket in our members' area.
Not a member yet? Join us! Learn more about our membership here: https://www.psychedelicassociation.net/membership
Looking to support greater access to psychedelics in Canada? You can make a donation here: Donate Now
The recording of this event will be made available after the event.
Thank you for your support.
Speaker:
Cory Firth, Chief Storyteller at the Nikean Foundation
Cory is a human-impact community builder, communications entrepreneur and plant medicine advocate who has spent the last 5 years building communities in the mental health and wellness space. After a 20 year battle with depression, Cory has committed his career to a vision of the future where the stigmatization of mental illness is replaced with compassion, transformation and community connection; a world where we work together to reunite with our innate abilities to heal, overcome and actualize our full potential. As the former Executive Director of the Canadian Psychedelic Association, Cory is passionate about collaborating with other psychedelic advocates to share their transformation stories with the world.
Host:
Dr. Pamela Kryskow
Dr. Pamela Kryskow is a medical doctor in Vancouver, British Columbia. Her training includes Family Medicine, Rural Emergency Medicine, Chronic pain, Functional Medicine and Psychedelic Assisted Psychotherapy. She is currently working with colleagues on research related to Psychedelic Assisted Psychotherapy,  Microdosing, MDMA, Psilocybin, Chronic Pain and Psychedelic therapy.  She is the medical lead in Roots To Thrive Non Profit and the Medical Chair of the Vancouver Island University Psychedelic Assisted Therapy Post Graduate Certificate Program and a Clinical Instructor at UBC.
For transparency, Dr. Kryskow is an advisor as follows:
- Clinical Advisory Council for Numinus Bioscience
- Medical Advisor for Fungi Perfecti
- Volunteer Advisor for Nectara
- Scientific Advisor to MycoMedica Life Science, Public Benefit Corporation