The event is based around the notion of teaching & telling stories about Emancipation in the Caribbean.
About this event
The members of the Caribbean Coalition Network of Montreal are pleased to invite you to an event that has as it core Emancipation Day 1834 (August 1, 1834). This event is focused on that day and what it meant for the enslaved people in British colonies. It will also explore how merged people formed cultures and ways of being from then up to present times.
The members of the Caribbean Coalition Network of Montreal include Antigua & Barbuda Association of Montreal, Barbados `House Montreal Association, Dominica Island Cultural Association of Montreal, Guyana Cultural Association of Montreal , Grenada Nationals Association of Montreal, Jamaica Association of Montreal, The St Vincent and The Grenadines Association of Montreal
We look forward to seeing you !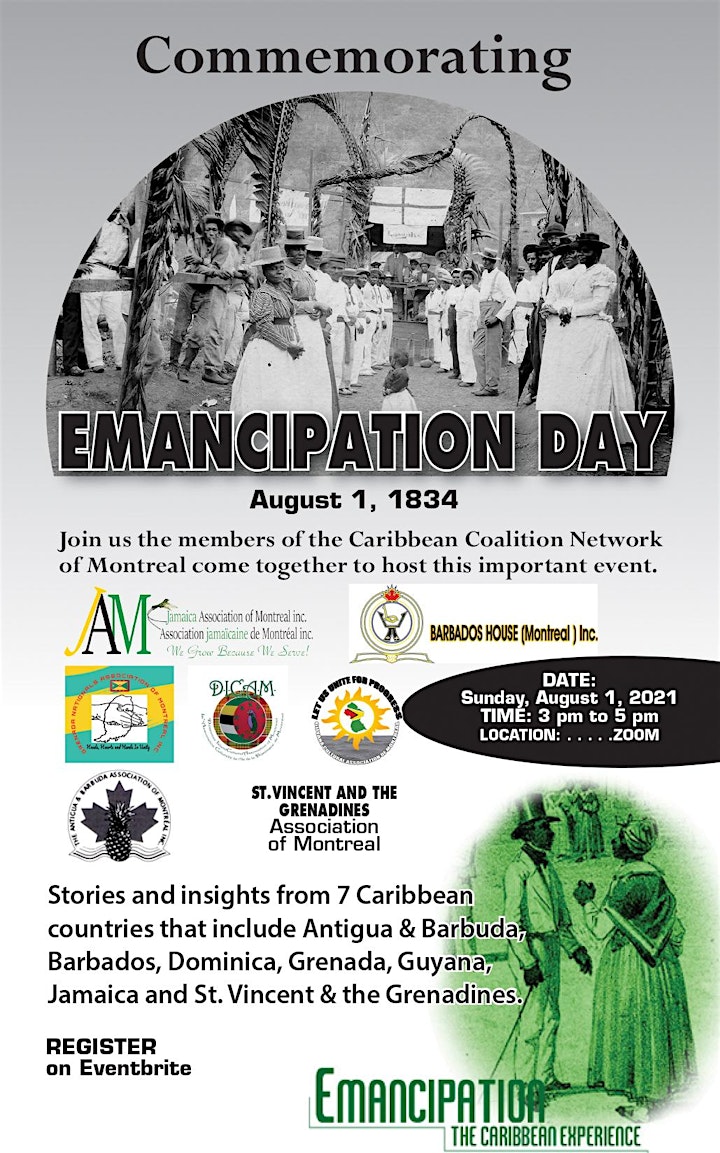 Organizer of Commemorating Emancipation Day - Friday, August 1, 1834
The Jamaica Association of Montreal Inc. is committed to the social, political, economic, educational and cultural integration of the Jamaican Community and by extension the Black Community within Montreal, and the Province of Quebec.

The organization is involved in assessing the needs of the community and providing the service through either a referral system or direct access.

We are undertaking short and long term plans to meet the objective of a more community service based organization. Primarily we exist to serve the members of the Jamaican Community in Quebec, working in conjunction with other community organizations and the Government as a whole.