Comment informer à l'âge de la distraction massive?

Wednesday, 29 October 2014 from 12:00 PM to 1:00 PM (EDT)
Event Details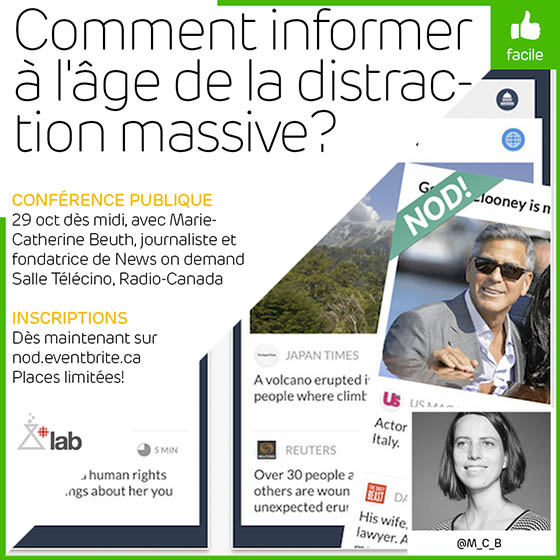 Vous êtes invités à une conférence Midi Lab intitulée: Comment informer à l'âge de la distraction massive?, avec Marie-Catherine Beuth (via Skype), journaliste et fondatrice de News on demand. Cette conférence est gratuite et est publique. Elle se tiendra à la grande salle Télécino de la Maison de Radio-Canada à Montréal, sur l'heure du midi le mercredi 29 octobre prochain. Apportez votre lunch!
À propos de la conférence:
Les startups en journalisme ou en information sont rares, et les modèles d'affaires le sont d'autant plus. C'est pourquoi nous vous proposons une discussion avec Marie-Catherine Beuth, une entrepreneure qui travaille sur les concepts de temporalité, de capacité d'attention et de comportement de consommation lorsqu'il s'agit d'information. Avec News on demand, elle propose d'améliorer l'accès à l'information lorsque notre temps est compté.

À propos de Marie-Catherine Beuth:
Marie-Catherine Beuth a été journaliste au Figaro pendant une 10aine d'année et est désormais correspondante à San Francisco pour ce même journal. Elle est boursière de nombreux prix liés à l'innovation journalistique, et participe aussi à l'émission L'Atelier des médias sur RFI.

À propos des Midis Lab:
Les Midis Lab sont une initiative de Radio-Canada Lab, le laboratoire web de Radio-Canada. Ces ateliers visent à créer des échanges autour de projets qui nous inspirent sur le plan de la créativité, de l'innovation ou de l'engagement. Suivez les activités du Lab sur Facebook ou sur Twitter, et abonnez-vous à l'infolettre.
When & Where
Grande salle Télécino (Maison de Radio-Canada de Montréal)
H2L2M2
Canada

Wednesday, 29 October 2014 from 12:00 PM to 1:00 PM (EDT)
Add to my calendar
Organizer
Le laboratoire numérique de Radio-Canada.