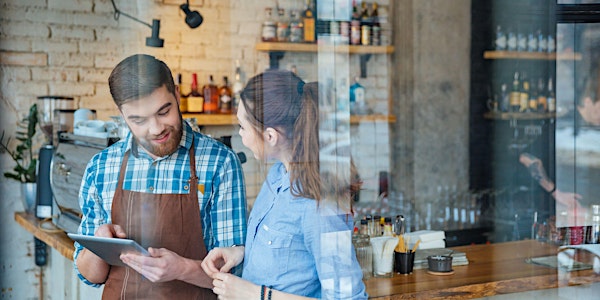 COMMENT OUVRIR MON RESTAURANT ?
Ouvrir un restaurant n'est pas forcément aisé. C'est le rêve de nombreuses personnes et peut-être le vôtre. Comment ouvrir un restaurant ?
Refund Policy
Contact the organizer to request a refund.
Eventbrite's fee is nonrefundable.
About this event
Cet atelier ce veut un guide qui va vous accompagner au travers des principales démarches d'ouvrir un restaurant. Il vous permettra de gagner du temps et d'éviter certaines erreurs.
Il est important de savoir que ceci est un prémisse à l'ouverture d'un concept de restaurant. Vous trouverez au sein de ce site de nombreuses formations complémentaires pour vous aider dans votre cheminement.
𝗖𝗘 𝗤𝗨𝗘 𝗩𝗢𝗨𝗦 𝗔𝗣𝗣𝗥𝗘𝗡𝗗𝗥𝗘𝗭 !
• Pourquoi il est primordial de définir votre concept de restauration?
• Pourquoi votre thématique culinaire peut être un gage de succès ?
• Quel sera votre positionnement sur le marché ?
• Quelle est la différence entre le local et l'emplacement ?
• Pourquoi votre bail est-il important dans la réussite de votre restaurant ?
• Comment est-il possible de financer votre projet de restaurant ?
• Quelles sont les permis nécessaires ?
• Quelles sont les erreurs à éviter ?
𝗔̀ 𝗤𝗨𝗜 𝗦'𝗔𝗗𝗥𝗘𝗦𝗦𝗘 𝗖𝗘𝗧𝗧𝗘 𝗙𝗢𝗥𝗠𝗔𝗧𝗜𝗢𝗡 ?
Professionnel de la restauration, chef, personne en reconversion, personne en processus de création, futur investisseur et toute personne souhaitant en apprendre sur ce métier.
𝗣𝗢𝗜𝗡𝗧𝗦 𝗙𝗢𝗥𝗧𝗦 𝗘𝗧 𝗢𝗕𝗝𝗘𝗖𝗧𝗜𝗙𝗦 :
 𝗔𝗽𝗽𝗹𝗶𝗾𝘂𝗲𝗿 : des compétences de terrain
 𝗠𝗲́𝘁𝗵𝗼𝗱𝗲 : dans la création et la gestion de votre restaurant
 𝗥𝗲𝗻𝘁𝗮𝗯𝗶𝗹𝗶𝘁𝗲́ : dans la mise en place de ratios spécifiques
 𝗦𝗲 𝗱𝗶𝘀𝘁𝗶𝗻𝗴𝘂𝗲𝗿 : de la concurrence et de la clientèle
 𝗣𝗿𝗼𝗳𝗶𝘁𝗲𝘇 : de notre expertise en création de restaurants
*𝗡𝗼𝘀 𝗮𝘁𝗲𝗹𝗶𝗲𝗿𝘀 𝗲𝘁 𝗰𝗼𝗻𝗳𝗲́𝗿𝗲𝗻𝗰𝗲𝘀 𝘀𝗲 𝗳𝗼𝗻𝘁 𝘂𝗻𝗶𝗾𝘂𝗲𝗺𝗲𝗻𝘁 𝗽𝗮𝗿 𝘃𝗶𝘀𝗶𝗼𝗰𝗼𝗻𝗳𝗲́𝗿𝗲𝗻𝗰𝗲.