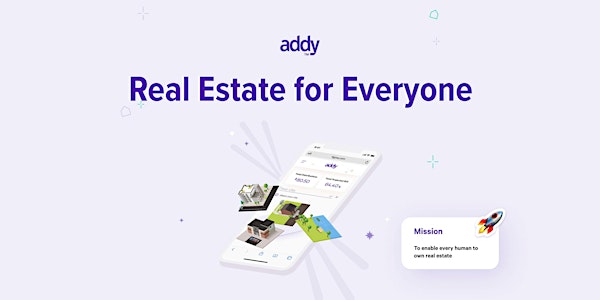 Commercial Real Estate Investing Made Simple (Webinar)
Learn how you can invest in institutional-grade commercial real estate deals quickly and easily with addy.
About this event
Being a Landlord is a lot of work. Dealing with tenants and toilets is not for everyone.
What if there was a very very easy way to earn passive income from real estate without having to be a landlord?
Well, there is.
It's called addy (short for address).
addy is an investment platform which allows everyone to invest in institutional grade commercial real estate for as much and as little as they want.
With addy, you get to build your own real estate portfolio by investing only in the properties that make sense to you.
Sign up for one of my webinars to learn :
how addy works
why addy is unique
current offering in Canada
upcoming offerings in the USA (expanding to America in early 2023)
who can invest in each offering
Who should attend this webinar?
Anyone interested in real estate investing. Everyone can invest as little as $1.
*Canadians can only invest in Canadian offerings; Americans can only invest in US offerings.
addy has been featured in Forbes Magazine, Inc., Yahoo!, FastCompany...to name just a few.
Not sure if this webinar is for you?
Email me at mary@addyinvest.com
For Canadians: www.addyinvest.ca
For Americans: www.addyinvest.com