Common Mistakes in English with Shahram Ghanbari (Feb. 5 to Feb. 26)
Event Information
Location
Planet Hatch
50 Crowther Lane
(Fish Bowl)
Fredericton, NB E3C 0J1
Description
Please note: It is recommended you attend a full set of four sessions! The classes are designed to continue into the following week.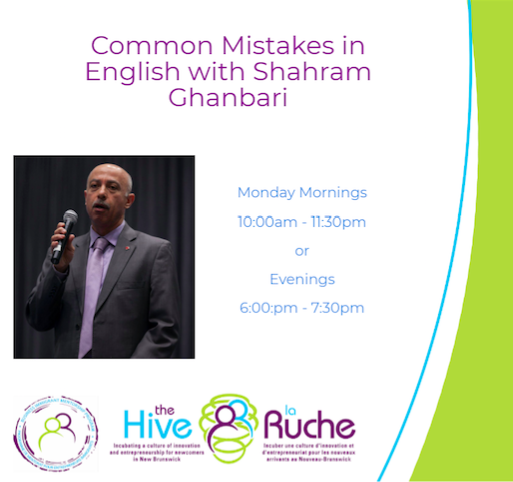 Shahram Ghanbari has a BS in Physics and his MBA – Master of Business Administration – from American Liberty University. He has attended many workshops and seminars on personal and business success with the world's gurus. He's a member of ISMM (International Sales and Marketing Management). This combination has made him an exceptional personal and business consultant.
Shahram has been the director of three language schools. He is also the president and CEO of his own company in Canada now. His mission is to help people and businesses to get to the next level of success and achievement. He has spent all his life in education and training and that has made him an expert and master in training and education. He helps companies to achieve the standards defined in the industry.
He loves to see people succeed.
Date and Time
Location
Planet Hatch
50 Crowther Lane
(Fish Bowl)
Fredericton, NB E3C 0J1