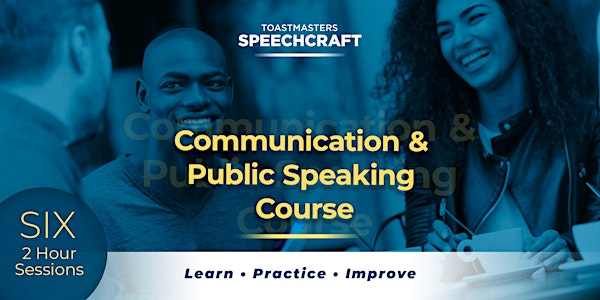 Communication & Public Speaking Course - Six Session Speechcraft
Boost your confidence & improve your communication, public speaking, and leadership skills by learning & practicing in a safe environment.
When and where
Location
Gore Meadows Community Centre & Library 10150 The Gore Road Brampton, ON L6P 0A6 Canada
Refund Policy
Contact the organizer to request a refund.
Eventbrite's fee is nonrefundable.
About this event
Communication &
Public Speaking Course
⸻
Get the skills you need now!
Do you have to answer questions in an upcoming job interview? Give an important presentation? Make a toast at your sister's wedding? You can get through these (and so many more speaking scenarios) with average success—or you can shine through extraordinary achievement. The Speechcraft digital experience will help you rise above to be the best communicator you can be.
See below: Overview ➟ Video Overview ➟ Info ➟ Details ➟ Outcome ➟ FAQ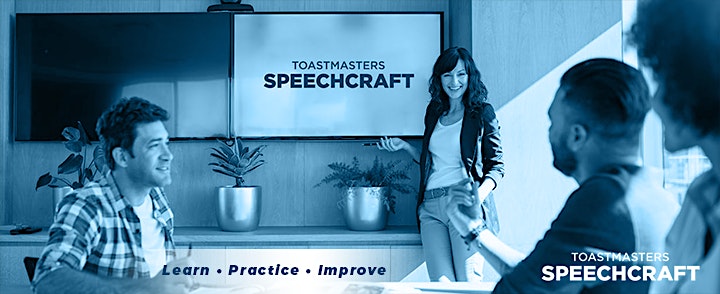 As the Speechcraft name implies, it helps you turn your speaking skills into a craft. This six-session course is for non-Toastmasters over 18 and is a condensed version of what Toastmasters offers Members of Brampton North Toastmasters. Experienced club members help you learn the fundamentals of public speaking by giving presentations, mentoring, and providing a safe learning environment.
The club members want to raise your speaking skills so you can succeed by delivering the program during a regular club meeting. Full course cost includes material, mentoring, and six sessions at Earnscliffe Recreation Centre in Brampton, ON.
This course has been delivered to companies such as Pepsi Canada and World Vision Canada and professionals in various occupations.
We use illustrations to demonstrate the course and how your life may change by attending the Communication and Public Speaking Course, Speechcraft, at Brampton North Toastmasters.
FULL COURSE INFORMATION
⸻

Day and Time: Tuesdays from 7 pm to 9 pm
Starting: Tuesday, September 20, 2022
Ending: Tuesday, October 25, 2022
Duration and Time Requirments: Six, two hour sessions and a minimum of two hours a week outside the session
Location: Gore Meadows Community Centre & Library
Cost: $25 each, fees not included ($140 value)
Material: Speechcraft Digital Experience

*Watch the session's presentations and learn communication skills online via Zoom. You will not have access to the material and mentoring and may have a chance to participate in the session. You will have an opportunity to speak to a member about how you can improve your communication and public speaking skills.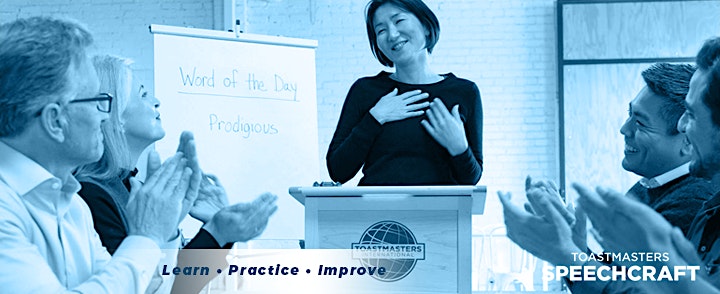 In the six sessions, you will learn the fundamentals of public speaking, practice those skills, and receive feedback in a supportive and positive experience.
Weekly:
You practice impromptu and prepared speaking, listening, and giving feedback. You work with an advisor/mentor in a breakout room to prepare for the session and the following week. Toastmasters provide presentations on various public speaking topics.
Session One: September 20, 2022
⸻
Review material, work with mentor, and practice impromptu speaking.
Presentations(3): Importance of good speaking skills ‣ Selecting a topic (choose what to speak about and support the needs of the audience) ‣ How to evaluate (Importance of evaluating to motivate and providing professional support and feedback)

Session Two: September 27, 2022
⸻
You give your first speech the "The Ice Breaker"
Presentations(2): Introduce a speaker ‣ Organize a speech for maximum effectiveness ( a speech that conveys a message)

Session Three: October 4, 2022
⸻
You give your second speech, "Organize your Speech" or evaluate/introduce another Speechcrafter
Presentation(2): Impromptu speaking (don't be off balance speaking off the cuff) ‣ General and specific speech purpose (identify and give a purposeful message when talking to a group)
Session Four: October 11, 2022
⸻
You give your second speech, "Organize your Speech" or evaluate/introduce another Speechcrafter
Presentations(2): Gestures in speaking (use of non-verbal communication) ‣ Vocal variety (how to use your voice)

Session Five: October 18, 2022
⸻
You give your third speech, "Know your Purpose" or evaluate/introduce another Speechcrafter
Presentations(1): Overcoming fear (techniques for overcoming nervousness)

Session Six: October 25, 2022
⸻
You give your third speech, "Know your Purpose" or evaluate/introduce another Speechcrafter
Presentations(2): Graduation
 ‣ What's next, continue the journey
Special Graduation Ceremony and presentation of your certificate

You will be able to answer random questions and present a polished image.
You will be able to deliver an important presentation with a clear vision and memorable takeaways.
You will be able to reduce the jitters, look at your loved ones, and speak from the heart.
You will be able to use your movement, gestures, and facial expressions to deliver your message
You will gain insight into providing professional and supportive feedback
You will identify and use powerful language to create images and emphasize your message
You will feel more confident and have the tools to reduce the fear
You will have access to the Pathways Gateway for six months
You will receive $25 off your membership at Brampton North Toastmasters
You will get credit for the speeches you gave for the Toastmasters Pathways Program
FREQUENTLY ASKED QUESTIONS
⸻
Why is this workshop so cheap?
Brampton North Toastmasters wants to give you the fundamentals of public speaking and help you improve your life, our way of giving to the community. The cost is to cover the material and expenses of the workshop. It gives us a chance to show you the impact of Toastmasters and our education program. There is no obligation to join the club.
What is Toastmasters?
Toastmasters International is a nonprofit educational organization that teaches public speaking and leadership skills through a worldwide network of clubs. Headquartered in Englewood, Colo., the organization's membership exceeds 300,000 in more than 15,800 clubs in 149 countries. Since 1924, Toastmasters International has helped people from diverse backgrounds become more confident speakers, communicators, and leaders.
What if I want to Join the Brampton North Toastmasters after the workshop?
Talk with the VP Membership and get an application form. We will deduct your $25 fee from the club dues as a workshop member. We will credit the speeches you gave in the workshop to your first level of the Toastmasters Pathway Program.
⸻
The information on this website is for the sole use of Toastmasters' members, for Toastmasters business only. It is not to be used for solicitation and distribution of non-Toastmasters material or information.