Description
Far from traditional, the Communitech AGM is an evening event that brings together the tech community for a little business and some time to catch up over some awesome food and drink.
Having our members there allows each one to have a voice, to hear what we've been up to for the past year, and to see what's coming up in the year to come.
If you're not able to make it, please submit an electronic proxy on behalf of your company. We need these to pass motions and keep doing business!
Want the full announcement? Find it here: Notice of Annual Meeting of Members
Cancellation policy: 7 days notice is required to obtain a full refund (Thursday, November 3, 2016 by 5pm)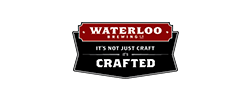 -----------------
Construction in the Region
As you may know, there is some construction happening in Downtown Kitchener, so you may hit some traffic getting here. Please check the latest updates from RideION.ca to help plan your best route.
Parking at the Tannery

Parking made simple! Check out our up-to-date map to find out how to get downtown Kitchener, and where to park!