Description
Communitech is excited to host author, speaker, and advisor Geoffrey Moore.
Moore's life's work has focused on the market dynamics surrounding disruptive innovations. His first book, Crossing the Chasm, focuses on the challenges start-up companies face transitioning from early adopting to mainstream customers. It has sold more than a million copies, and its third edition has been revised such that the majority of its examples and case studies reference companies come to prominence from the past decade. Moore's most recent work, Escape Velocity, addresses the challenge large enterprises face when they seek to add a new line of business to their established portfolio. It has been the basis of much of his recent consulting.
This talk will focus on Inside the Tornado: Strategies for Developing, Leveraging, and Surviving Hypergrowth Markets. Once a product "crosses the chasm" it is faced with the "tornado," a make or break time period where mainstream customers determine whether the product takes off or falls flat. In Inside the Tornado, Moore details various marketing strategies that will teach marketers how reach these customers and how to take advantage of living inside the tornado in order to reap the benefits of mainstream adoption.
Thank you to our sponsors: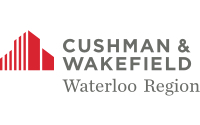 ===
Cancellation Policy
We don't know why you'd want to cancel, however, if you do, please do so by Tuesday, April 11 at 11:59pm to receive a full refund. No refunds will be granted after this date.

We have an awesome community. And we like to show it off.
Please be advised that photographs and video will be taken at our events for use on Communitech web, print and social properties. We won't sell your photo, but we may share it with media and/or partner organizations. By attending this and any Communitech event, you consent to being photographed and/or filmed, and to your image or likeness being used at Communitech's discretion.
Construction in the Region
As you may know, there is some construction happening around our Region, so you may hit some traffic getting here. Please check the latest updates from RideION.ca to help plan your best route. Click here to See all iON construction updates or view current road closures.
Parking at the Tannery
Parking made simple! Check out our up-to-date map to find out how to get downtown Kitchener, and where to park!
===