Communities under Sectarian Strife: Re-Examining the Role of Religion and Diplomacy

Friday, 1 April 2016 from 2:00 PM to 4:00 PM (EDT)
Event Details
Intercultural Dialogue Institute and The Committee for Interfaith Dialogue at Massey College 
cordially invite you to attend a Panel Discussion on
 Communities under Sectarian Strife:
Re-Examining the Role of Religion and Diplomacy
Moderator:
Associate Professor; Centre For European, Russian And Eurasian Studies
Speakers:
CIGI Senior Fellow
Department of Defence Studies, Canadian Forces College
April 1, 2016 - 2:00pm - 4:00pm
Upper Library, Massey College, 4 Devonshire Pl, Toronto, ON M5S 2E1, Canada
2:00pm - Registration | 2:30pm - Panel and Q&A | 4:00pm - Closing
Refreshments will be provided.
Register at http://sectarian-strife.eventbrite.ca
About the theme:
There is a global rise in sectarian and religious conflicts. These conflicts have all taken shape along confessional divides in different regions of the world though their particular root cases are a result of complex historical, political and/or social circumstances. This conference seeks to assess these conflicts –particularly those taking place in the Middle East– from both local and global perspectives and in light of political movements espousing more extreme interpretations of religion, culture, and the West's varied reactions.
On this important topic, our speakersProf. Besma Momani (University of Waterloo), and Prof. Miloud Chennoufi (Canadian Forces College) will make an overlook of the situation before engaging in a discussion of more specific issues that have arisen in the past decades. The panel discussion will be followed by a Q&A session, where all will be welcome to participate.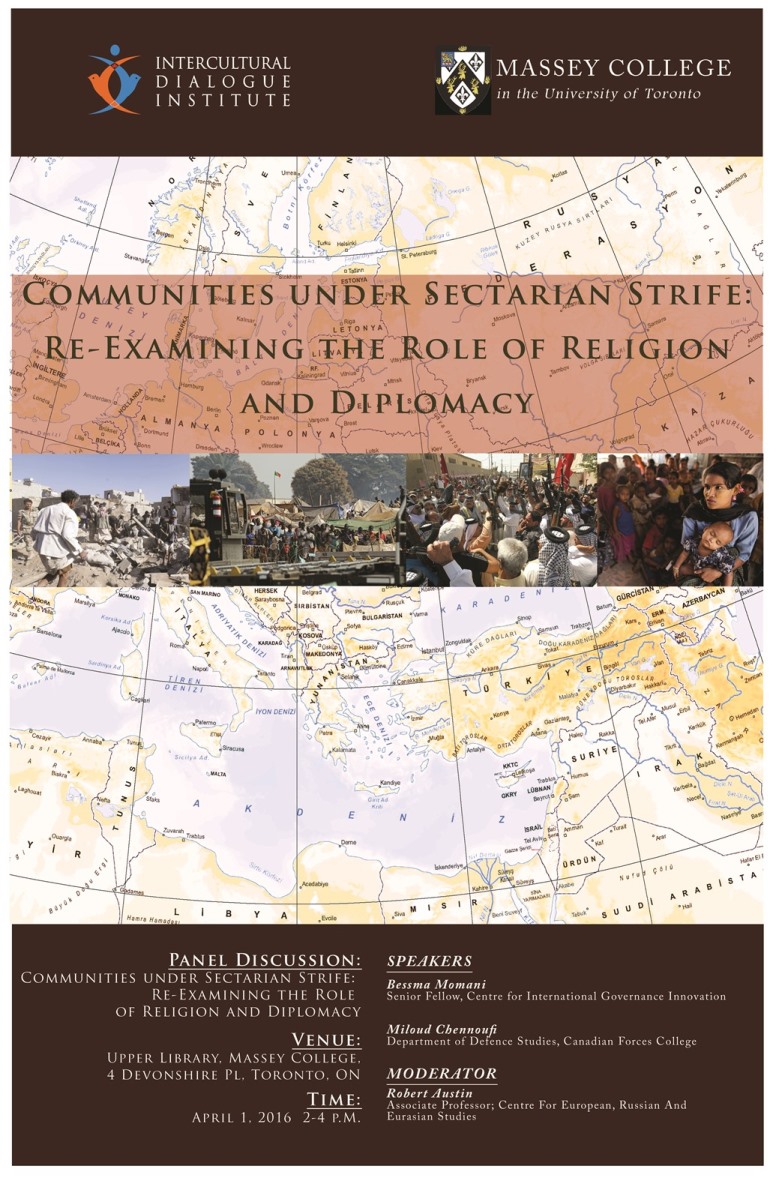 When & Where

Massey College
4 Devonshire Place
Toronto, ON M5S 2E1
Canada

Friday, 1 April 2016 from 2:00 PM to 4:00 PM (EDT)
Add to my calendar
Organizer
Intercultural Dialogue Institute is a non-profit organization whose purpose is to advance social cohesion through personal interaction by promoting respect and mutual understanding among people of all cultures and faiths through dialogue and partnership.
Intercultural Dialogue Institute aims to promote enduring interfaith and intercultural cooperation, tolerance and dialogue by sharing our differences and similarities in an effort to enhance civil society, to promote the development of human values, and to advance diversity and multiculturalism in the society. The Institute aims to eliminate or reduce false stereotypes, prejudices and unjustified fears through direct human communication. By this mission IDI aims to contribute to improvement of diversity, pluralism and multiculturalism throughout Canada.
IDI was formed in 2010 as a joint effort of several organizations and currently have 11 chapters* and regional offices in major cities of five Canadian provinces.
* GTA branch of IDI was established with the name Canadian Interfaith Dialogue Centre in 2004. Until July 2013 it had been known as Intercultultural Dialogue Institute (IDI) Toronto. In July 2013 it was re-branded as IDI GTA to represent the whole Greater Toronto Area.
Refund Policy: you can get a full refund if you cancel at least 72 hours before the event. If you cancel within 24 to 72 hours before the event, the refund amount is 50% of the ticket price. No refund will be issued for cancellations within 24 hours before the event or anytime after the event.