About this Event
"Every day we ask at least one person: "How are you doing in these crazy times?" but have you ever asked yourself the same question?
Let's take some time to do an internal scan and create images that express how we are feeling in this moment, amidst the Covid-19 pandemic. Since the best camera is the one you have, don't worry about gear, let's instead focus on creativity and self-expression.
Maybe it's Isolation, or Uncertainty, or Fear, or Connection, or Stress, or Freedom, or Intensity, or… whatever you are feeling, thinking or experiencing, join Yukon photographer and trauma therapist Mark Kelly to create photographs that describe your experience, emotion and thoughts about this deeply personal yet collective moment."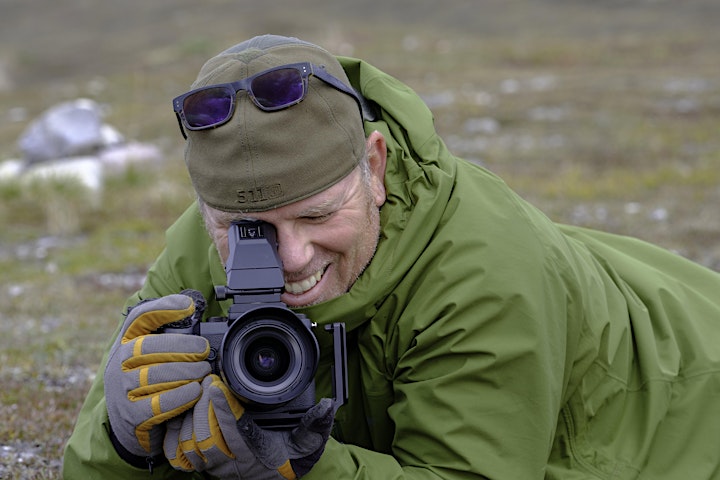 About Mark
Mark Kelly is an award-winning photographer based in Whitehorse, Yukon, Canada. He received a Kodak Instamatic 110 camera on his 8th birthday and has not stopped clicking since. His passion for photography has led him around the world to photograph inspiring people, places and landscapes.
 Mark has taught other photography lovers for almost 20 years through workshops, multi-day courses and photo-walks. He offers workshops locally and internationally, and he hosts an annual photography residency in Namaqualand, South Africa.
Mark's counselling master's thesis utilized photography in the personal change process and during that time, he discovered the importance of photography for social change. Since then Mark has worked individually and with other photographers to create work that encourages viewers to consider social needs at home and globally.
In 2017, Mark published the book Beyond Mile Zero: The Vanishing Alaska Highway Lodge Community (Harbour Publishing) with writer Lily Gontard. They were awarded the 2018 Yukon Heritage Award for Innovation, Education and Community Engagement. The book was also awarded the 2018 silver medal in travel writing at the Independent Publishers Book Awards (IPPY) and the 2018 Foreward Indies Book of the Year gold medal for travel. Mark's work has also been published by notable media including the Calgary Herald, the CBC, EnRoute, the Globe and Mail, Geist, Red Bull, Up Here Magazine and Yukon North of Ordinary.
In the summer of 2018, Mark created a portrait series for the International League of Conservation Photographers to bring awareness of the impact of oil exploration on the people in Alaska's Arctic National Wildlife Refuge and the fragile calving grounds of the Porcupine Caribou Herd.
Mark worked with the Yukon Anti-Poverty Coalition to create the Guerrilla Photography for Social Change and Mind the Gap photography projects. He has also worked with the Yukon Human Rights Commission to create imagery for the UN Declaration on the Rights of Indigenous Peoples, Ta'an Kwach'an Council's It Starts at Home: Modern Times, Traditional Values: Honouring our Women campaign, and the Yukon White Ribbon Campaign's My Strength is Not for Hurting. In 2017, Mark worked in South East Asia to bring awareness about poverty and housing in the rural parts of Cambodia with the NGO Bracelets for Buildings.
In recent years Mark has found his way back to outdoor pursuits and adventure-based photography. He is the official photographer for the Montane Yukon Arctic Ultra and shoots for other adventure races around the North. Mark was the co-host of the popular CBC podcast Northern Exposures and is the Executive Director of the Writing with Light Society which organizes the annual First Light Image Festival in Whitehorse.
Mark's work can be found on his website depthoffield.ca, on Instagram @markkellyphotography, on Facebook @markkellyphotography.ca, or follow him on Twitter @fullycaffinated.
About #CommunitiesCreate
The Communities Create Initiative empowers Canadians to express themselves using creativity, to build their skills, and find human connection during this unprecedented time. Participants are invited to engage in a series of free online workshops sponsored by the Canadian creative community, to help them convey how they are feeling through a variety of different mediums, and then share their work online.
Each workshop will approach the question "how are you feeling right now?" in a number of different ways. Once complete, participants will be invited to share their creative works using the hashtag #CommunitiesCreate. The content will be compiled into a "time capsule" to form a collective look at how Canadians are feeling through the pandemic.
How to participate:
Join a communities create workshop.
Create an expression of how you are feeling using the skills you learn.
Share your creation with the world using the hashtag #communitiescreate
For more information, visit communitiescreate.ca.