Location
UBC Learning Exchange - Main Floor
612 Main St
Vancouver, BC V6A 4E9
Canada
Description
Community Arts Dialogue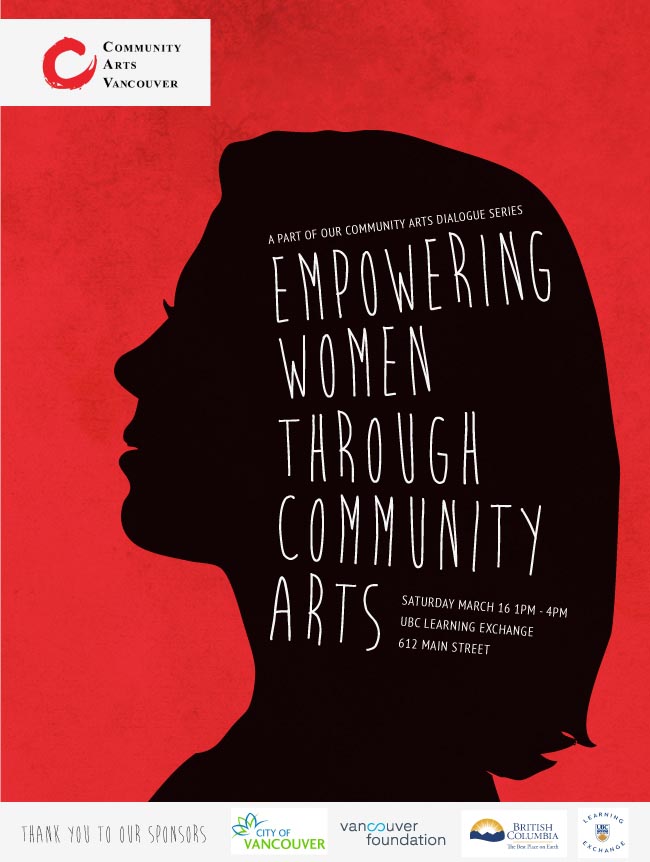 The Community Arts Council of Vancouver invites you to come and join the conversation about Community Arts in Vancouver. We'll talk, meet, and even make art together!
Our theme this time is women empowered through community and art.
We'll have a panel moderated by Francis Heng and Evi Vassious.
Panel includes:
Caroline MacGillivray – Founder and Executive Director of The Beauty Night Society
Pat Hogan – Women's Winter Faire (formerly known as the Women's Winter Arts & Crafts Faire)
Kim Villagante (also known as Kim Possible) – multi-dimensional artist and singer-songwriter
To read about our Community Arts Dialogues visit cacv.ca/dialogue
Late or Lost? Call: 604-652-7984
LOCATION: UBC LEARNING EXCHANGE 612 MAIN STREET
Office address: #440 - 111 West Hastings (at Abbott) – Woodwards Heritage Building
Tel: 604-682-0010 / Email: dialogue@cacv.ca
More about: Community Arts Council of Vancouver
Visit: http://cacv.ca or http://communityarts.ning.com
Thank you to UBC Learning Exchange for providing space and support for our community arts dialogues.
Thank you to BC Arts Council for operating assistance and to the Vancouver Foundation and the Province of British Columbia for funding for our Downtown Eastside Community Arts Program.