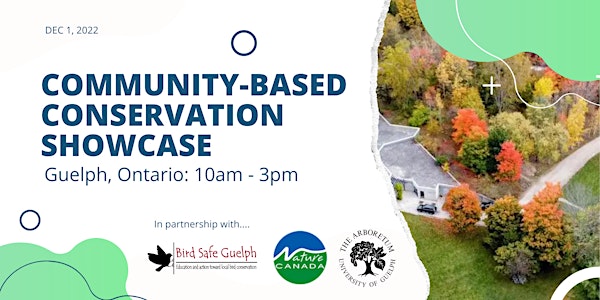 Community-based Conservation Action at U of G Arboretum!
Special Delivery to Nature COP in Montreal with Nature Canada, Birds Canada, Bird Safe Guelph & others!
When and where
Location
The Arboretum, University of Guelph 200 Arboretum Road Guelph, ON N1G 2W1 Canada
About this event
For the second stop on the way to NatureCOP, join us on Thursday, December 1st in Guelph, Ontario from 10am to 3pm at the University of Guelph's Arboretum to celebrate messages of hope and community in advance of the United Nations COP-15 conference in Montreal.
Come say hi to Bird Safe Guelph, Nature GuelpBirds Canada, the University of Guelph Sustainability Department, Guelph Students for Environmental Chang, and many others* to celebrate the city's recent Bird Friendly City Certification!
This event will include a nature walk (at 10:30am), engaging booths to learn more about local Guelph conservation iniatives and nature-based educational programs for youth. Join us over the lunch hour to meet Interpretive Biologist, Chris Earley, as he discusses tips and tricks for backyard birding with the whole family. We will be celebrating the launch of his newest book, "How to Feed Backyard Birds: A Step-by-Step Guide for Kids."
You will also have the opportunity to write a letter to Prime Minister Trudeau about the importance of protecting and restoring nature to prevent the further exceleration of the biodiversity crisis. Wild Ontario will be in attendance with an educational bird exhibit!
We can't wait for you to join us. If you have any questions, please contact Autumn Jordan at ajordan@naturecanada.ca.